In the first game of the day, England broke the SA U18 'A' team's hearts with a late fightback and a penalty goal after the buzzer to secure the victory that looked unlikely at the break, 36-34.
Although the SA U18s also lost some steam towards the end, they just had too much class for the French, with Sha-Jehaan de Jongh (wing) and Litelihle Bester (outside centre) scoring two tries apiece, while Thurlon Williams landed eight from his nine attempts at goal for a contribution of 19 points.
After the teams traded early penalty goals, the South Africans found their attacking groove and had their opponents under the pump for 10 minutes of superb rugby during which time they scored four tries.
First De Jongh went over after a heel against the head close to the French tryline and some quick thinking by Steven Nel (scrumhalf) before Bester finished an intercept under the sticks. Williams added both conversions to his earlier penalty goal to put the SA U18s in the lead by 17-3, but they were not yet done.
Bruce Sherwood (inside centre) scored next, again from a good move down the left by De Jongh, before Nel got his try in the 21st minute and with Williams adding the conversions, the SA U18s were in firm control at 29-3.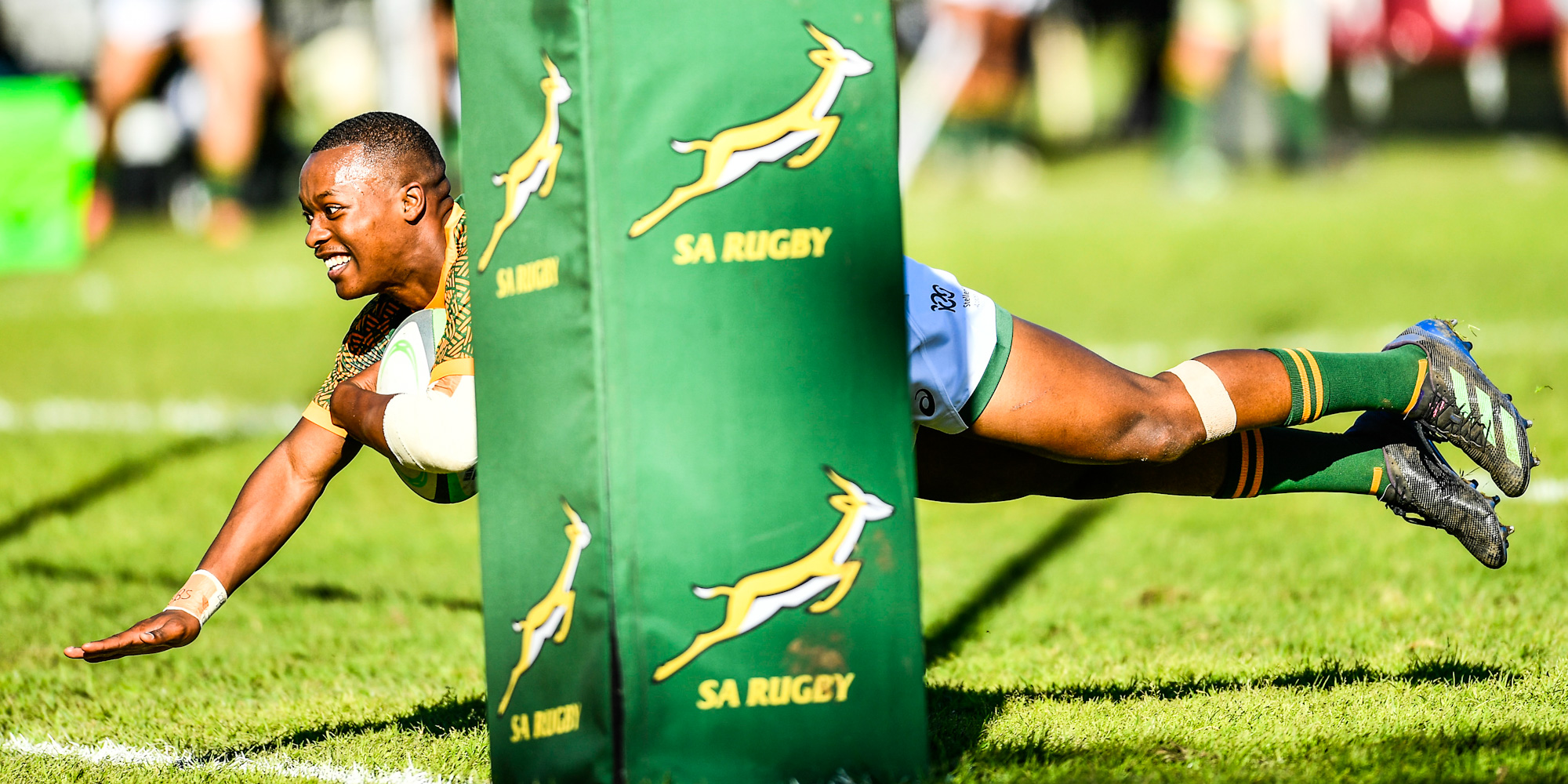 The game lost a bit of structure and a few players were injured, but that didn't stop the visitors from persisting with their attacking intent and they were finally rewarded on the stroke of half-time when No 8 Sialevailea Tolofua went over from a counter-attack, with Kalvin Gourgues (inside centre) adding the extras to make it 29-10 at the break.
Despite losing players to injury, the SA U18 pack grew in stature and turned the screws on their opponents both in the set pieces and at the breakdowns.
Williams added two penalty goals early in the second half before De Jongh and Bester both got their second tries. The left wing scored from another heel against the head at a scrum close to the French line, and the outside centre from a sublime attacking chip kick by Williams, who converted both to put SA in charge at 49-10.
France finally got their second try with just under 15 minutes to go, when Jon Echegaray (left wing) went over after a period of sustained attack.
Soon thereafter the SA U18s were back in their opponents' half, but they weren't as dominant as earlier, with a yellow card to replacement hooker Ethan Bester hampering the hosts and ultimately robbing them from another scoring opportunity, but it didn't detract at all from a very good win.
Scorers:
South Africa Under-18 49 (29) – Tries: Sha-Jehaan de Jongh (2), Litelihle Bester (2), Bruce Sherwood, Steven Nel. Conversions: Thurlon Williams (5). Penalty goals: Williams (3).
France 17 (10) – Tries: Sialevailea Tolofua, Jon Echegaray. Conversions: Kalvin Gourgues (2). Penalty goal: Gourgues.