The SA U18 side started with a strong performance as they beat England by 40-24 on Friday, but the SA U18 'A' side came up short against France in their match (26-23). On Tuesday, the SA U18 'A' team face England (13h30), and the SA U18s will play France (15h30), with both matches taking place at Paarl Gimnasium.
Katleho Lynch, coach of the SA U18s, lauded his players for their victory, but warned them to stay grounded as they prepare to face the tricky French side.
"It was a great day at the office after a good week and the boys played extremely well against England," said Lynch.
"It was also nice to score some maul tries and James Winstanley (assistant coach) needs to take some credit for that, especially as we've not had a lot of time together to prepare as a team, and it was good to see the work done we've done in that short space of time come into play.
"There were some good individual performances, but as a collective the boys did the job. There is still a lot of work and analysis to be done though, and the boys have to keep their feet on the ground and we look forward to the match against France."
Cobus van Dyk, the coach of the SA U18 'A' team, was immensely proud of the effort shown by his players despite the defeat and he was positive that they can make another step up by the time they take on England.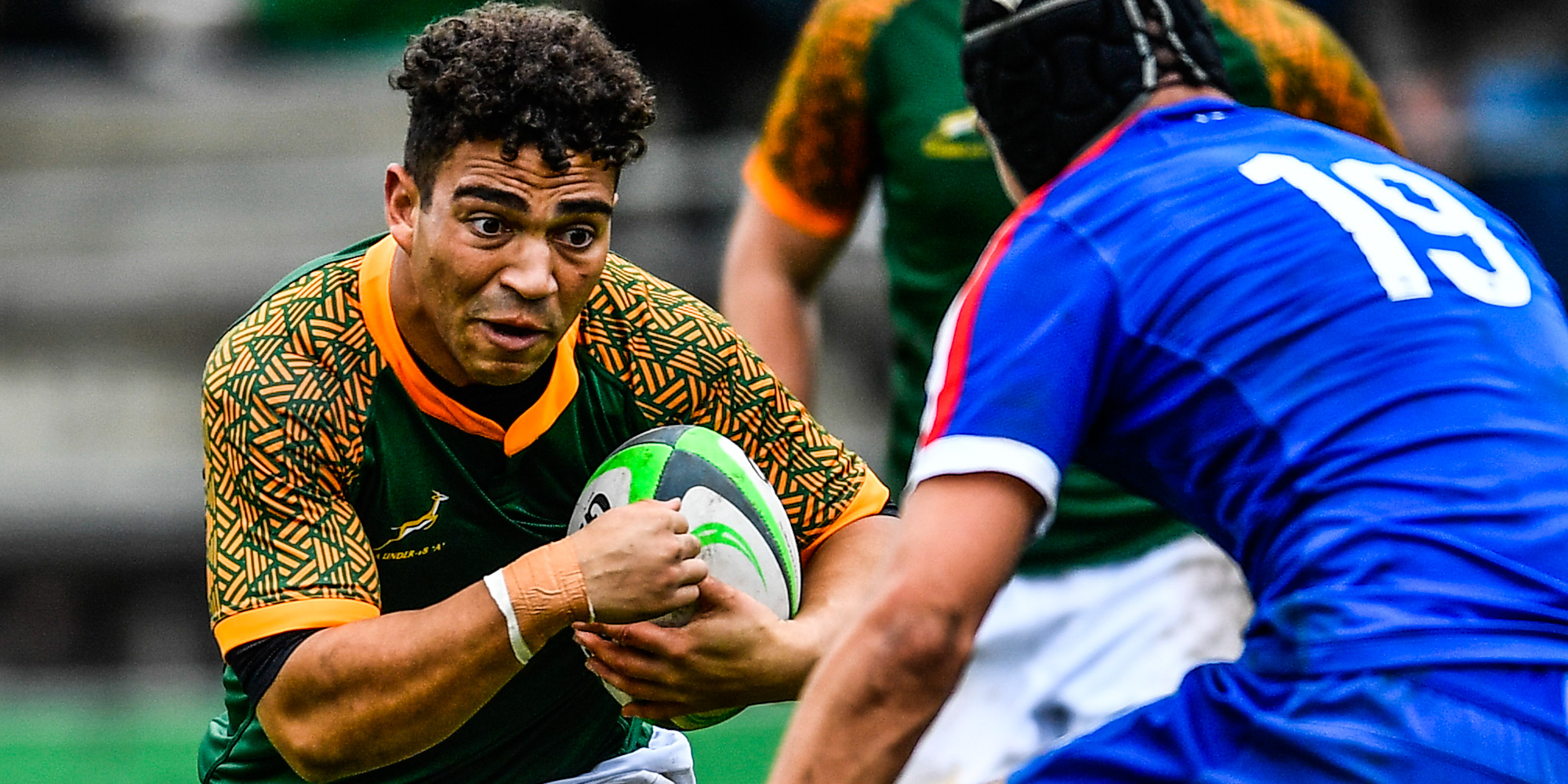 "We created enough opportunities that we didn't capitalize on, mainly due to a few small basic errors on our side, like forward passes or losing the ball, while we also let in two soft tries which ended up costing us," said Van Dyk.
"I was very satisfied with our scrums and mauls, but we can work a bit harder to get across the gain line and then we have to use our opportunities and keep our composure on attack, especially when we're in their 22.
"We will also have to work on our breakdowns and decision making, but there were enough positives to work on for the second match."
Injuries played havoc in both squads, with SA U18 captain Zachary Porthen one of the casualties. Due to concussion his participation in the tournament has been cut short, with Nic Snyman of the 'A'-team moving up in Porthen's place. Sibabalwe Mahashe (No 8) will take over the captaincy.
JC Mars (fullback) has picked up an ankle injury and will also not play again in Paarl, but he will not be replaced at this stage.
SWD tighthead prop Marco Conradie replaces Snyman in the SA U18 'A' team, who have also lost the services of Ulrich van der Westhuizen (lock) with a knee injury, JT Strydom (fullback) with a calf injury, as well as Emrique Liedeman (scrumhalf) with a knee injury.
They are replaced by Sampie Joubert (WP, lock), Jayden Bantom (Valke, fullback) and Aiden Muller (WP, scrumhalf), who will join Asaad Moos (scrumhalf, WP) in the 'A'-squad after he replaced Onelisiwe Fani last week already.
Due to the injuries and the selectors' decision to give all the players game time, both teams show quite a number of changes, many of which are rotational.
The teams for Tuesday are:
SA Under-18 to face France in Paarl:
15 Joel Leotlela (Lions)
14 Alfondso Isaacs (Cheetahs)
13 Litelihle Bester (Sharks)
12 Bruce Sherwood (Western Province)
11 Sha-Jehaan de Jongh (Western Province)
10 Thurlon Williams (Western Province)
9 Steven Nel (Bulls)
8 Sibabalwe Mahashe (captain – Border)
7 Lilitha Matziliza (Bulls)
6 Matthew Fick (Western Province)
5 JF van Heerden (Cheetahs)
4 Jack Waterhouse (Sharks)
3 Reno Hirst (Western Province)
2 Luca Bakkes (Western Province)
1 Ruan Swart (SWD)
Replacements:
16 Ethan Bester (Sharks)
17 Liyema Ntshanga (Sharks)
18 Nic Snyman (Sharks)
19 Thabang Mpafi (Sharks)
20 Lukas Meyer (Cheetahs)
21 Caleb Abrahams (Cheetahs)
22 Stehan Heymans (Bulls)
23 Joshua Boulle (Lions)
24 Thomas Dyer (Sharks)
SA Under-18 'A' to face England in Paarl:
15 Jeneil Losper (Western Province)
14 Gino Cupido (Western Province)
13 Jurenzo Julies (Western Province)
12 Sesethu Mpaka (Border)
11 Jameel de Jongh (Western Province)
10 Bradley Giddy (Cheetahs)
9 Asad Moos (Western Province)
8 Camden Schoeman (captain – SWD)
7 Divan Fuller (Western Province)
6 Max du Pisani (Eastern Province)
5 Keanu Coetzee (Western Province)
4 Sandile Nzuza (Sharks)
3 Bernard Bladergroen (Western Province)
2 Christian Everitt (Sharks)
1 Willem Loubser (Western Province)
Replacements:
16 Juan Smal (Western Province)
17 Liyema Ntshanga (Sharks)
18 Marco Conradie (SWD)
19 Sampie Joubert (Western Province)
20 Danio Botha (Western Province)
21 Zukisane Tom (Sharks)
22 Aiden Muller (Western Province)
23 Liam Koen (Western Province)
24 Antonio Bruiners (Western Province)
25 Jayden Bantom (Valke)