Mr Wilson was a figurehead in the non-racial South African Rugby Union (SARU) – along with men such as Dullah Abbas, Ebrahim Patel, Baby Richards and Dan Qeqe – as well as a former president of Eastern Province and he served on the board of the first racially integrated South African Rugby Football Union.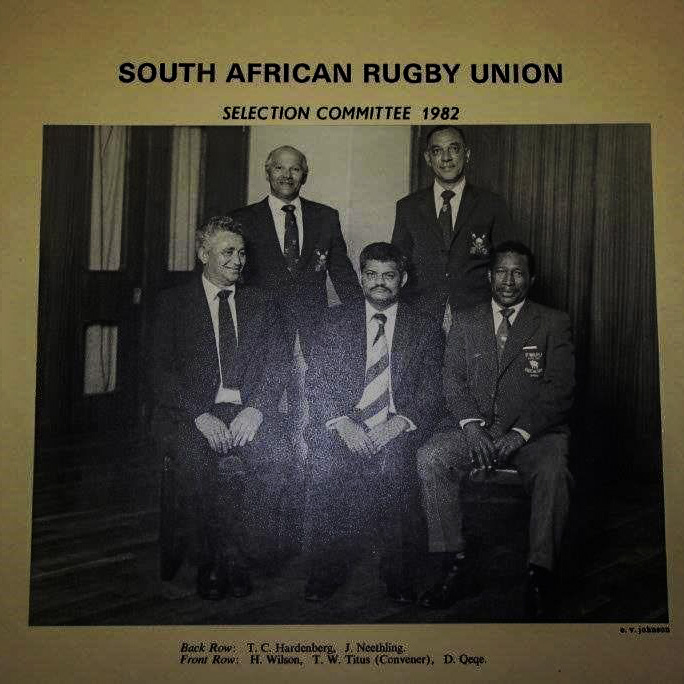 "In 2004, Harold was given a President's Award for his long-standing service to the game, along with others such as Dan Qeqe, Martin Visagie, Curnick Mdyesha, Thomas Musson and Lawton Fourie, which underlined his great standing in the South African rugby community," said Mr Alexander.
"Apart from fighting for the rights of those who were excluded under apartheid, Harold also served the game as an administrator and national selector for SARU, where he worked with other big names such as Dan Qeqe, Tobie Titus, TC Hardenberg and John Neethling.
"After years of very hard work behind the scenes, when we finally established unity in the game in South Africa, Harold served on the first SARFU Board and further ploughed back into the game he loved so much."
Kariem Jeftha wrote in "Memoirs from Newtown" that Mr Wilson was a teacher who taught at numerous schools in the Eastern Cape, and he was the principal at Dietrich Primary School for 23 years. At the same time, he worked in rugby administration in Eastern Province and became Honorary Life Vice President in 1992.
Mr Wilson wrote the history of SARU in 1994 and was a co-author of the book "112 years of Springbok Rugby" in 2003, as well as "The Badge" in 2008, but he also worked in cricket administration in Eastern Province.
"His was a beacon of light in his community, province and the whole of South Africa, and his legacy will live forever in rugby," added Mr Alexander.
"I'm privileged to honour the massive contributions he has made the rugby over many, many years. Our thoughts and prayers are with Sheila and his other loved ones in this difficult and sad time, may you find solace in the memories of a great man, who did great things for South Africa."