The Blitzboks were without the dynamic playmaker Ronald Brown, who was injured in the semi-final win over Australia earlier in the day, in the final, while regular skipper Siviwe Soyizwapi was also out injured and didn't play at all on Sunday.
Zain Davids, who took over the captaincy, said: "I have a little bit of mixed emotions at the moment, but mostly I'm happy as we came out here and gave our all, and I think we can be very happy with our performance against a great team like Fiji.
"When 'Shakes' got injured, I had to take over the captaincy and I was happy to do that, because I know the guys supported me, but I also knew that in this team you don't really have to be a captain as you have a bunch of guys behind you that's helping and supporting you."
The South Africans made a great start and scored three well-worked tries in the opening half while keeping the dangerous Fijian runners in check with excellent tackling and great counter-attacking play.
They deservingly led 17-0 at the break in the Coventry Stadium, while in the second half they combined their heroic defensive effort with equally great finishing performances. Muller du Plessis opened the scoring from a pinpoint Selvyn Davids cross-kick, an early sign of things to come.
JC Pretorius scored the second in the same corner after a sustained passage of attacking play, with South Africa looking well after the ball in contact. That put them 12-0 ahead.
Shaun Williams scored the third try as the menacing Pretorius stole another crucial turnover to put the little speedster away, the try handing South Africa a 17-0 half-time advantage.
After the break, Du Plessis then ran in for his second off an excellent cut-out pass from Selvyn Davids. Williams nailed the angled conversion to stretch the lead to 24-0 and left Fiji with a mountain to climb.
Fiji eventually got on the scoreboard when Nacuqu went over for converted try to reduce the deficit to 27-7.
But the Blitzboks were not to be denied. Mfundo Ndhlovu scored the final try with seconds remaining to seal a brilliant gold medal performance, denying Fiji the remaining major title that have escaped them at previous Commonwealth Games.
South Africa also won the gold medal at the 2014 Commonwealth Games staged in Glasgow.
Scorers:
South Africa 31 (17) – Tries: Muller du Plessis (2), JC Pretorius, Shaun Williams, Mfundo Ndhlovu. Conversions: Shaun Williams (2), Dewald Human.
Fiji 7 (0) – Try: Waisea Nacuqu. Conversion: Nacuqu.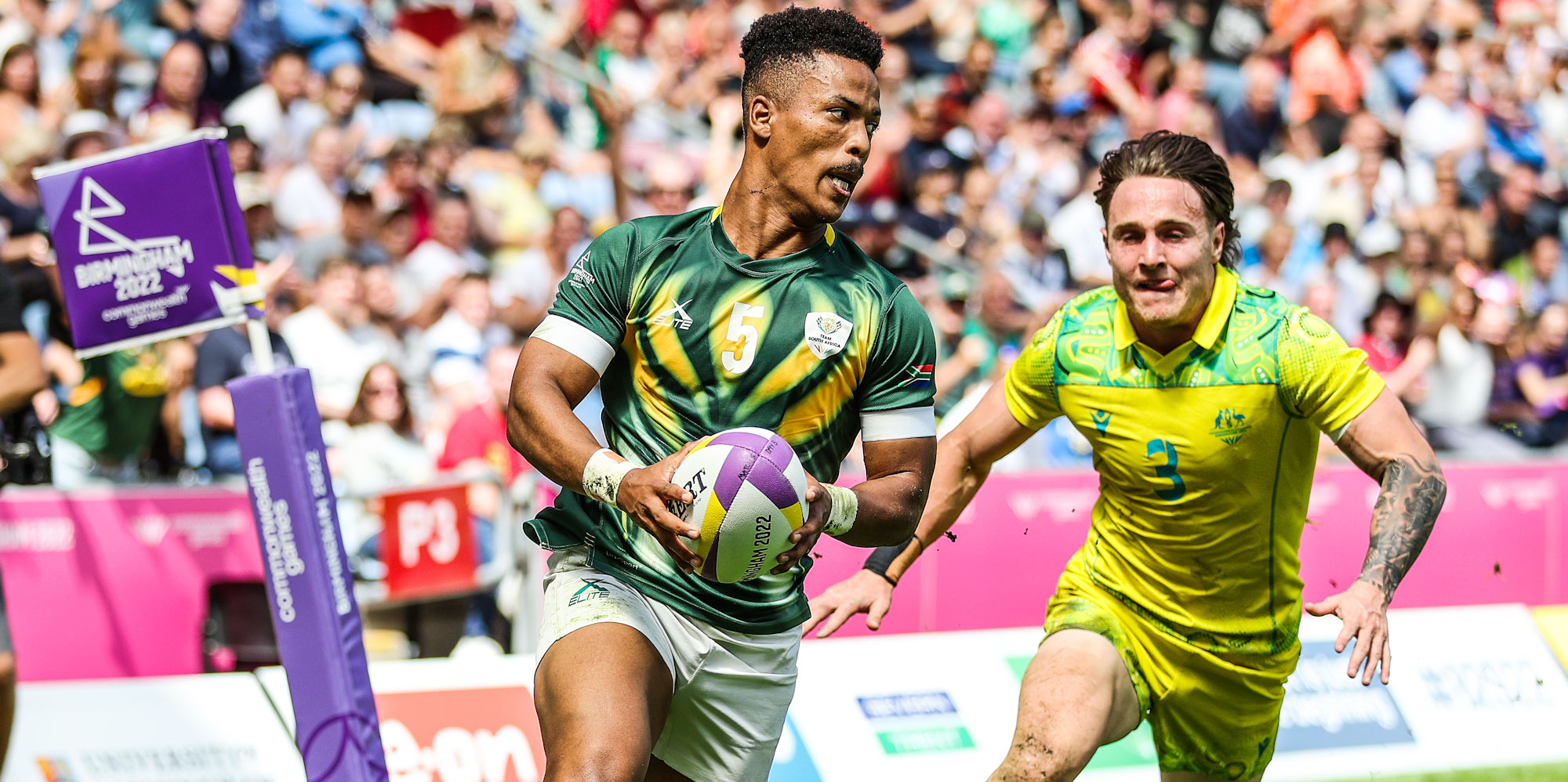 Earlier on Sunday, Angelo Davids scored his third hat-trick of the Games as the South Africans recovered from an early 5-0 deficit to gain a comfortable victory.
The two teams went into the lead locked even at 12-12 after an entertaining first half but South Africa pulled away in the second half to book their spot in the grand finale.
Australia drew first blood when Mark Nawaqanitawase powered through to put the Aussies 5-0 ahead.
Angelo Davids then continued his prolific try-scoring form at the Games when he scored his eighth try following a clever grubber from playmaker Selvyn Davids, with Ronald Brown's conversion putting SA 7-5 ahead.
But the Aussies hit back immediately with a clever attack which saw Matthew Gonzalez go in under the posts to regain the lead at 12-7. However, there was just enough time before halftime for Davids to score his second of the half, from a lineout set-play, to draw the teams level at the break (12-12).
After the restart Selvyn Davids charged down a kick and collected the loose ball to score in the corner, with a brilliant conversion edging SA ahead by 19-12.
Angelo Davids was then denied another try when he was caught short of the line with a desperate tackle. But in the next movement, he bagged his hat-trick when the flyer scored out wide from a well-worked move. SA was now in control at 24-12 and all they needed to do was to manage out time until the final whistle.
They will now face the formidable Fijians in the final in an attempt to win their second gold medal after their success of 2014. Fiji beat New Zealand 19-14 with a golden try in extra-time in the first semi-final, which served up a sevens classic between the two South Pacific rivals.
The final is scheduled for 22h04 and will be broadcast live on SuperSport.
Scorers:
South Africa 24 (12) – Tries: Angelo Davids (3), Selvyn Davids. Conversions: Ronald Brown, Selvyn Davids. 
Australia 12 (12) – Tries: Mark Nawaqanitawase, Matthew Gonzales. Conversion: Dietrich Roache.