The Test at the Kamaishi Unosumai Memorial Stadium, which is scheduled to start at 07h45, is the first of two matches in the Taiyo-seimei Japan Rugby Challenge Series 2022.
Springbok Women head coach Stanley Raubenheimer included the duo in his starting line-up for the Test, with Nolunsindiso Booi back at lock and captain, and a first starting berth for Simamkele Namba on the wing.
Booi missed the team's last Test against Namibia at City Park in Cape Town due to injury, the same venue where Namba scored four tries after coming onto the field as a substitute in the second half.
Hele played the last of her nine Tests against Scotland in 2019 and suffered a serious knee injury in the Women's Premier Division when rugby returned post-COVID in 2021. The extent of the injury meant her rehabilitation took very long, but much to Raubenheimer's relief, Hele – or "Blommie" as she is known amongst her teammates – looks set to regain the form she had in 2019 when she was named as the best women's player in the local game.
"I am really pleased to have her back – she had been in outstanding form when she got injured and hard to work very hard to get back to this level," said Raubenheimer.
"We followed a conservative approach with her rehab as the main goal was to have her ready for the Rugby World Cup in New Zealand. To have her playing for us in this Test series in Japan is really good news for the team."
Potgieter played against England Under-20 and the Barbarians at Twickenham during last year's November Series in Europe, but will earn a first Test cap in what the coach describes as a "very deserving" debut.
"Rumandi has been with us since that tour – she works hard in training and was a positive influence on the squad during our camps this year," said Raubenheimer.
"With Zenay Jordaan's injury before the tour, I opted to move Tayla Kinsey into the back-up flyhalf position, which she will cover off the bench for us, handing Rumandi this opportunity to start for the first time."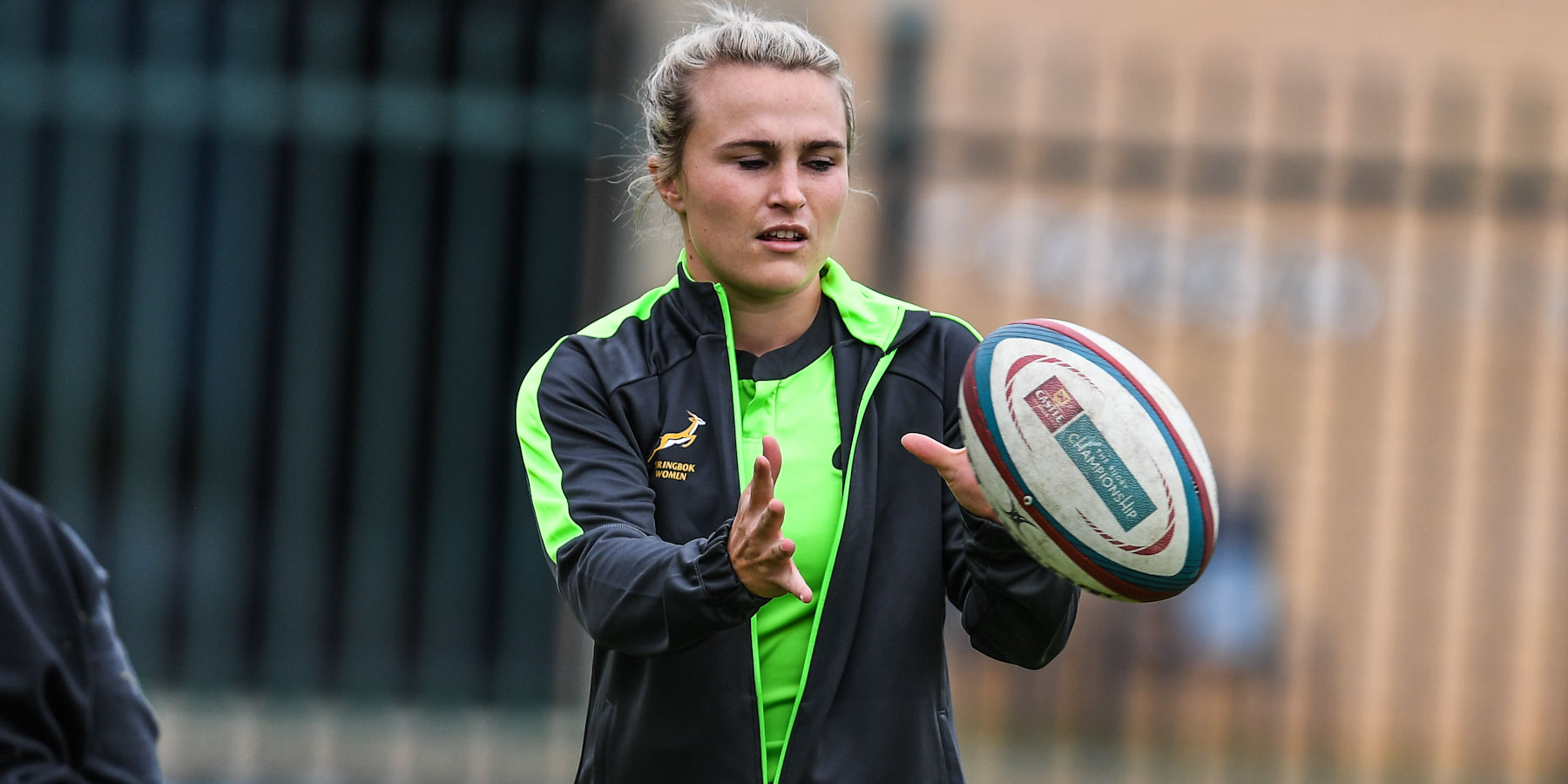 Booi recovered from the niggle that made her sit out against Namibia and she will replace Nompumelelo Mathe at lock, while Namba will start in the jersey worn by Ayanda Malinga in the run-on team against Namibia.
Prop Monica Mazibukwana is another who could be capped after the match. Like Potgieter, the prop had stints against England Under-20 and the Barbarians in November, but is yet to feature in a test squad.
"I have tweaked our bench for this clash as I would like to give opportunities to players to stake a claim for the squad to go to New Zealand in September. We will use these matches against Japan for that," explained the coach, adding that they are ready to take on the host nation, ranked one position ahead of them on World Rugby's rankings (12th and 13th).
"We came to Japan to get us ready for the ultimate mission, the World Cup, and so far on the trip, we learned a lot of things," he said.
"The players now know how to travel for long hours and through time zones and what jet lag does to the body, all elements we wanted to expose them to. On Sunday, they will also encounter an opponent who plays a fast game and are potent on the counterattack. We wanted to work on our defence on this trip and Japan will test us in that area."
SuperSport will broadcast the match, due to kick-off at 07h45 SA time.
The Springbok Women team to face Japan in Iwate:
15. Nadine Roos - 4 tests, 15 points (three tries)
14. Nomawethu Mabenge - 6 tests, 20 points (four tries)
13. Zintle Mphupa - 11 tests, 86 points (16 tries, 3 conversions)
12. Aphiwe Ngwevu - 9 tests, 35 points (7 tries)
11. Simamkele Namba - 2 tests, 20 points (four tries)
10. Libbie Janse van Rensburg - 6 tests, 56 points (4 tries, 18 conversions)
9. Rumandi Potgieter - uncapped
8. Aseza Hele - 9 tests, 25 points (5 tries)
7. Sinazo Mcatshulwa - 12 tests, 30 points (6 tries)
6. Lusanda Dumke - 12 tests, 20 points (4 tries)
5. Lerato Makua - 2 tests, 0 points
4. Nolusindiso Booi - 27 tests, 10 points (2 tries), captain
3. Babalwa Latsha - 13 tests, 10 points (2 tries)
2. Lindelwa Gwala - 14 tests, 10 points (2 tries)
1. Yonela Ngxingolo - 14 tests, 5 points (1 try)
Replacements:
16. Micke Gunter - 1 test, 0 points
17. Sanelisiwe Charlie - 2 tests, 0 points
18. Monica Mazibukwana - uncapped
19. Rights Mkhari - 5 tests, 35 points (7 tries)
20. Nokubonga Siko - 1 test, 0 points
21. Unam Tose - 7 tests, 0 points
22. Tayla Kinsey - 19 tests, 44 points (2 tries, 14 conversions, 2 penalty goals)
23. Chumisa Qawe - 6 tests, 5 points (one try)