Both teams depart on Saturday for England to participate in the exciting multi-sport event.
Blitzbok captain Soyizwapi and Zain Davids are the only squad members who will make a second appearance at the Commonwealth Games as members of Team South Africa, but for the remainder of the men's squad this showpiece will be a new experience.
Springbok Sevens head coach Neil Powell, who will return to the Games as coach for a third time, named the duo in a squad that consist exclusively of contracted Blitzboks and, according to the coach, a well-prepared group of players will leave South Africa this weekend.
"I really think there is a good balance between experience and youth in the squad, with a number of younger players who have done well and put up their hands in the last two seasons who got their reward," said Powell.
"We find that the younger guys bring a very nice energy to this team and if we channel that well and in the right direction, it will benefit the team."
Powell was pleased with the last three weeks of preparation and said they achieved most of the objectives they set for themselves in training.
"We looked at areas in our game where we came up short in the last four World Series tournaments we played and focussed on those to improve our effort overall," he said.
"We said that those were the areas we need to be better in order to be successful. From a physical perspective, I believe the guys also worked hard and made a step-up to add to the resilience and mental toughness in the team. We had a very tough week last week, but the guys came through that very well."
South Africa are scheduled to play Malaysia, Tonga and Scotland in their pool in Birmingham and Powell reckons a good start will create the right platform for the team to perform. They start off their campaign against Malaysia and then face physical Tonga on the opening day (Friday, 29 July), before concluding their pool fixtures with a tricky encounter against Scotland on Saturday (30 July).
South Africa claimed gold in Glasgow in 2014, shortly after Powell took over the coaching reins of the team, however, they missed out on a podium finish at the next Games in 2018 at the Gold Coast in Australia.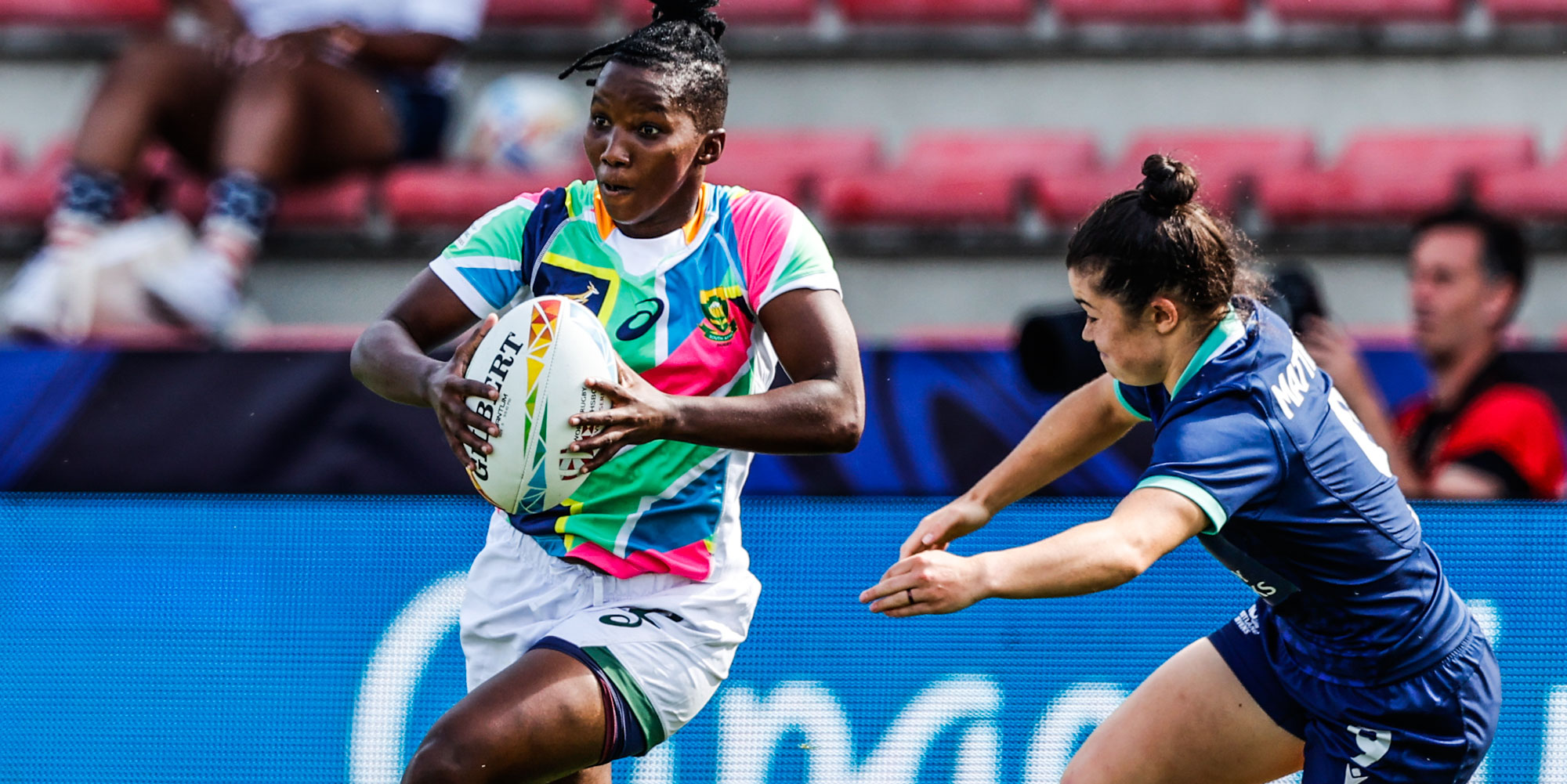 Meanwhile, Springbok Women's Sevens head coach Paul Delport has named six new caps in his squad for the Birmingham showpiece, with Plaatjies set to lead the team for the first time.
The 26-year-old University of Fort Hare student in Public Administration is enjoying a stellar year on the rugby field. She made her debut for the team in May at the HSBC World Rugby Sevens Series event in Toulouse and three weeks later scored the winning try for Border Ladies in the final of the Women's Premier Division against DHL Western Province in Cape Town.
Mathrin Simmers and Unathi Mali are the only two survivors from the 2018 tournament, where the women's competition for Rugby Sevens was introduced for the first time.
Liske Lategan, Donelle Snyders and Anacadia Minnaar also traveled to Toulouse, while Felicia Jacobs is a capped Springbok Women international with three Tests appearances to her name.
The inclusion of the uncapped Kemiketso Baloyi, Nontuthoko Shongwe and Kyla de Vries is a credit to the University of Pretoria's rugby programme, while Luleka Tyibilka was in the enlarged training squad when the sevens programme was halted when COVID struck in 2019.
Zandile Masuku, who had a stint playing club rugby in Spain, will also make a first appearance for her country in this format.
Delport said that although the squad lack experience and game time, they have worked hard to be ready for this opportunity: "We are going into this tournament with realistic expectations. This is going to be a huge learning curve for us, but we will be better for it. We have set out targets for the tournament and we will judge ourselves by those."
South Africa men's team:
Sakoyisa Makata
Christie Grobbelaar
James Murphy
Zain Davids
Angelo Davids
JC Pretorius
Ronald Brown
Selvyn Davids
Shaun Williams
Dewald Human
Siviwe Soyizwapi (captain)
Muller du Plessis
Mfundo Ndhlovu
Management: Neil Powell (head coach), Ashley Evert (team manager), Renfred Dazel (assistant coach), Hugh Everson (physiotherapist), Ghafoer Luckan (strength and conditioning coach).
South Africa women's team:
Unathi Mali (Border)
Asisipho Plaatjies (captain, Border)
Kemiketso Baloyi (Blue Bulls)
Donelle Snyders (DHL Western Province)
Luleka Tyibilika (Boland)
Anacadia Minnaar (Eastern Province)
Nontuthoko Shongwe (Blue Bulls)
Kyla de Vries (Blue Bulls)
Felicia Jacobs (DHL Western Province)
Mathrin Simmers (Border)
Zandile Masuku (SWD)
Liske Lategan (Blue Bulls)
Bianca Augustyn (DHL Western Province)
Management: Paul Delport (head coach), Sandile Ngcobo (assistant coach), Reagan Cele (physiotherapist), Michele van Rooyen (analyst), Thandiswa Nxomani (team manager).