The result allowed the Boks to clinch the Series, 2-1, following the opening week's 32-29 Springbok victory at Loftus Versfeld in Pretoria and the 13-12 defeat in Bloemfontein a week ago.
Nienaber said: "It was a final for us and we just had to deliver! There wasn't an option of not delivering."
Springbok captain Siya Kolisi agreed that the team knew what was expected of them: "We had so much to play for as a team," he said.
"A lot of people had a lot to say about us – and we want people to have an opinion and criticize the team – because we know they care. So, we treated this as a final."
Kolisi also paid tribute to Eben Etzebeth and Bongi Mbonambi who were making their 100th and 50th appearances respectively.
"We wanted to make it special for Eben and Bongi, but they didn't make it about themselves," said Kolisi.
"They wanted the team to win first and that's the best gift we could give to them. They have been amazing for us as a team. We can never question their character and what this team means to them. I am so grateful that I could be out there with both of them."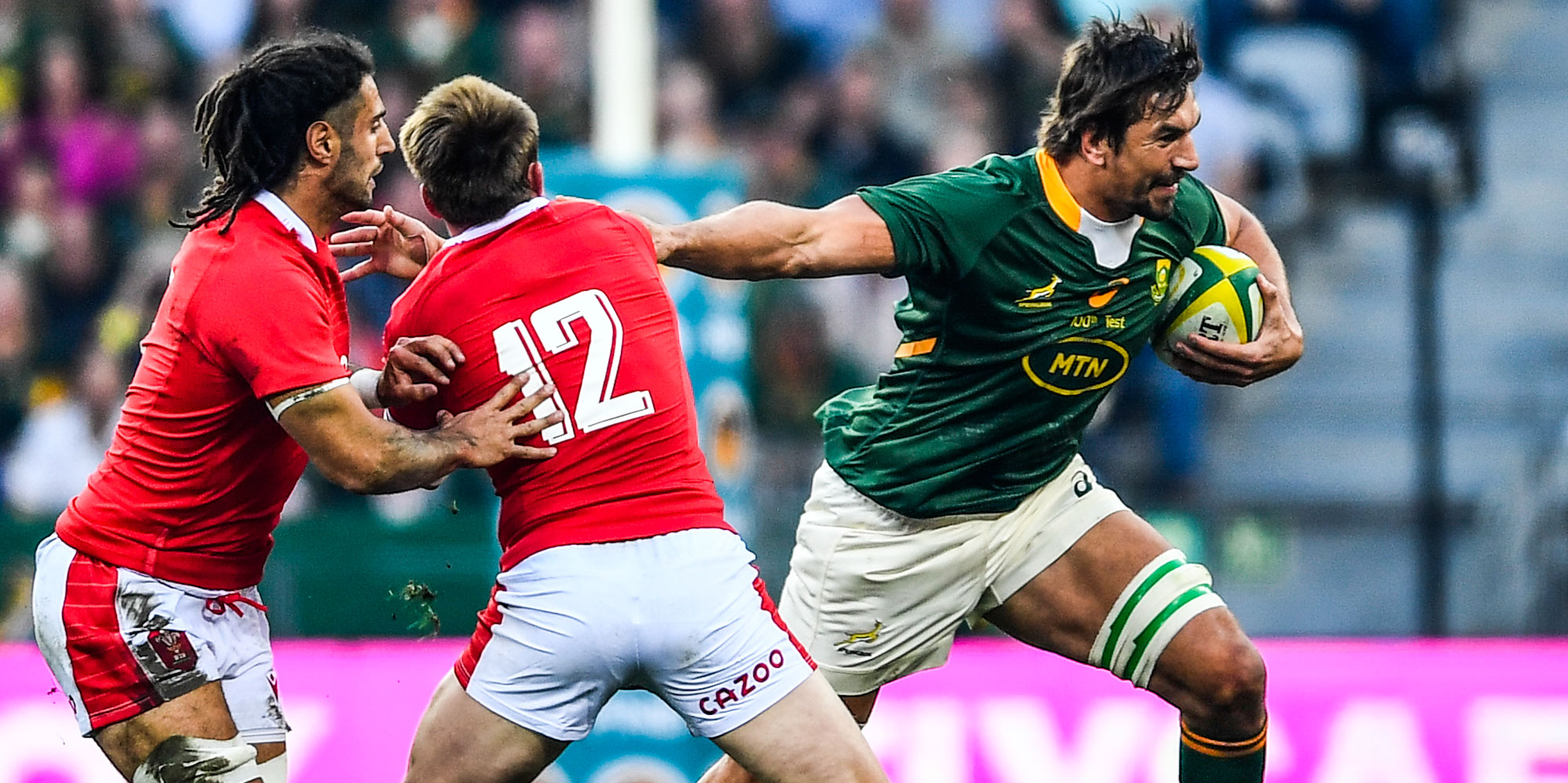 Handre Pollard, Mbonambi and Siya Kolisi scored tries while Pollard kicked six from six with three conversions and three penalty goals, to a Tommy Reffell try and three penalties from Dan Biggar.
However, Nienaber was not entirely satisfied: "It was not a polished performance. I think there's a lot to build still. I thought the set pieces functioned well, but still there was a couple of hiccups there – at scrum time we're still getting used to the brake foot thing – we will get better at that. We will have to build a lot still in terms of where we are."
Kolisi attributed the eventual margin of 16 points to composure and experience: "We knew they were going to get their moment in the game, and it was all about how long we allowed it to be.
"They got the two penalties, and we came into a huddle and made a plan and we just focused on the discipline because we didn't think they would score. We kept our discipline and stuck to the plan and then everything started swinging our way."
Turning chances into points remains a focus area, however.
"I think there's a lot for us to work on," said Nienaber.
"We created opportunities like last week which we didn't capitalise on. We lost the ball between the five metre-line and the goal-line line five times last week and that's probably the beauty of experience.
"We had a long conversation after last week we have to learn when we are in control of the scoreboard and there is 20 minutes left, how do we think and get aligned in what we're going to do.
"I think this week we were much more aligned and clinical in almost how to play when we have scoreboard pressure and the type of style that we have to play to finish off the game – I thought it was a lot better than last week."