There were also important wins for Shimlas, Maties and UP-Tuks.
The Shimlas from Free State University outplayed Witwatersrand University 42-34, and Stellenbosch University were way too strong for their Johannesburg counterparts, with Maties beating UJ 49-14, while the University of Pretoria, scored 11 tries against Nelson Mandela University, beating the Madibaz 75-0.
The action continues on Sunday with five ninth round matches (times and venues to be confirmed): UP-Tuks vs CUT Ixias, Shimlas vs Maties, UJ vs NWU Eagles, UCT Ikeys vs Madibaz, and Wits vs UWC.
The league stage of the tournament will conclude on Tuesday, with two rescheduled round seven matches on the Tuks B-Field and broadcast live on DStv Now (channel 245): UJ vs Wits and CUT Ixias vs NWU Eagles.
Thursday 's match summaries:
FNB Wits 34 (19), FNB Shimlas 42 (21)
Shimlas scored six tries in a hard-fought win at the Tuks B-Field. They came in hot following an impressive performance against Tuks on Monday, while Wits were playing their first game in the third bio-bubble.
It was a tight affair throughout with Shimlas holding a slender 21-19 lead at the break, but UFS flyhalf JP Duvenage's converted point-of-origin try with 10 minutes remaining gave his side a 10-point buffer at 37-27. 
Wits got themselves back in the fight when hooker Dameon Venter mauled his way over the whitewash, but his opposite number William Moffat sealed the bonus-point win for UFS Shimlas when he scored in the 77th minute.
Scorers:
FNB Wits – Tries: Lwazi Monakali (1x7), Sthsaba Mqhatu, Mark Snyman, Dameon Venter. Conversions: Keagan Lailvaux (3). Penalty Goals: Lailvaux (2).
FNB Shimlas – Tries: Uzile Tele, Johan Schutte, Thabo Ndabinde (2), JP Duvenage (1x7), William Moffat. Conversions: JP Duvenage (6).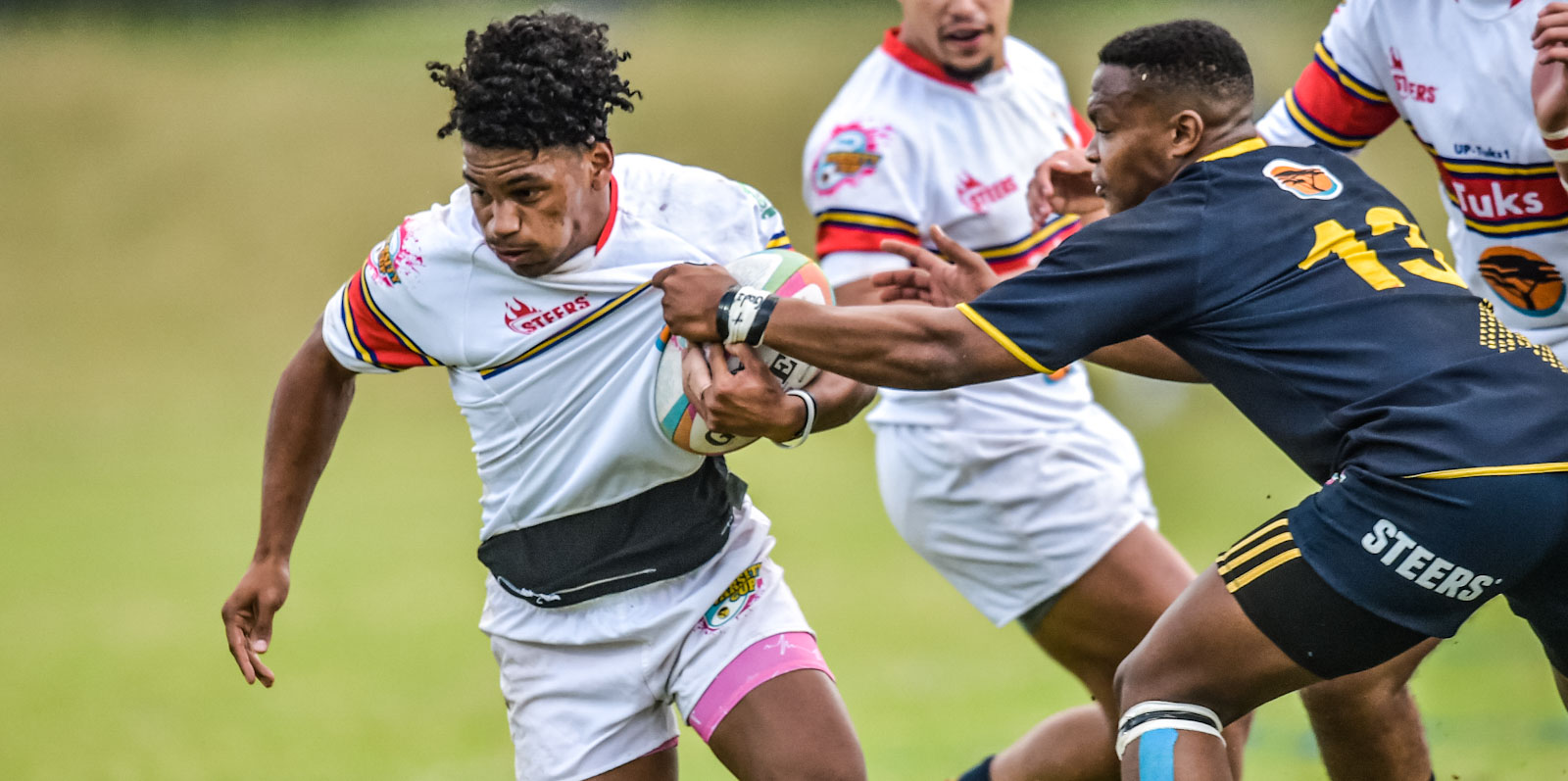 FNB Maties 49 (35), FNB UJ 14 (0)
Maties fed off the ill-discipline of UJ to run in seven tries at Tuks Stadium, with the five log points keeping the Stellenbosch side in third place on the log.
UJ's fullback Boldwin Hansen's high tackle on wing Munier Hartzenberg resulted in a penalty try, the first in 2021 that also counted as a point-of-origin try, and opened the scoring and the floodgates for Maties. They secured their bonus-point try by the 21st minute.
UJ only managed two tries, but the second was a thing of beauty. Down to 13 men, they were able to score a converted point-of-origin try to replacement loose forward Franco Schutte.
Scorers:
FNB Maties – Tries: Penalty try (1x9), Munier Hartzenberg, Siba Xamlashe (1x7), Dian Bleuler, HJ Luus, Taigh Schoor, André-Hugo Venter. Conversions: Adriaan van der Bank (2), Juan Mostert (2).
FNB UJ – Tries: Nkosikhona Masuku, Franco Schutte (1x7). Conversion: Jurich Claasens.
Madibaz 0, UP-Tuks 75 (44)
Leading points scorer, Zander du Plessis, had a field day, scoring a brace and kicking seven conversions as Tuks raced away against the Eastern Cape side at the Tuks B-field.
Hooker Llewellyn Classen also made his mark coming off the bench to score a second-half hat-trick as UP-Tuks finished with 11 tries. The result sees the tournament hosts remain in second place on the log.
Scorers:
FNB Tuks – Tries: Tharquinn Manuel (1x5, 1x7), Sango Xamlashe (1x7, 1x5), Zander du Plessis (1x5, 1x7), Cebolenkosi Dlamini, Werner Fourie, Llewellyn Classen (3). Conversions: Zander du Plessis (7).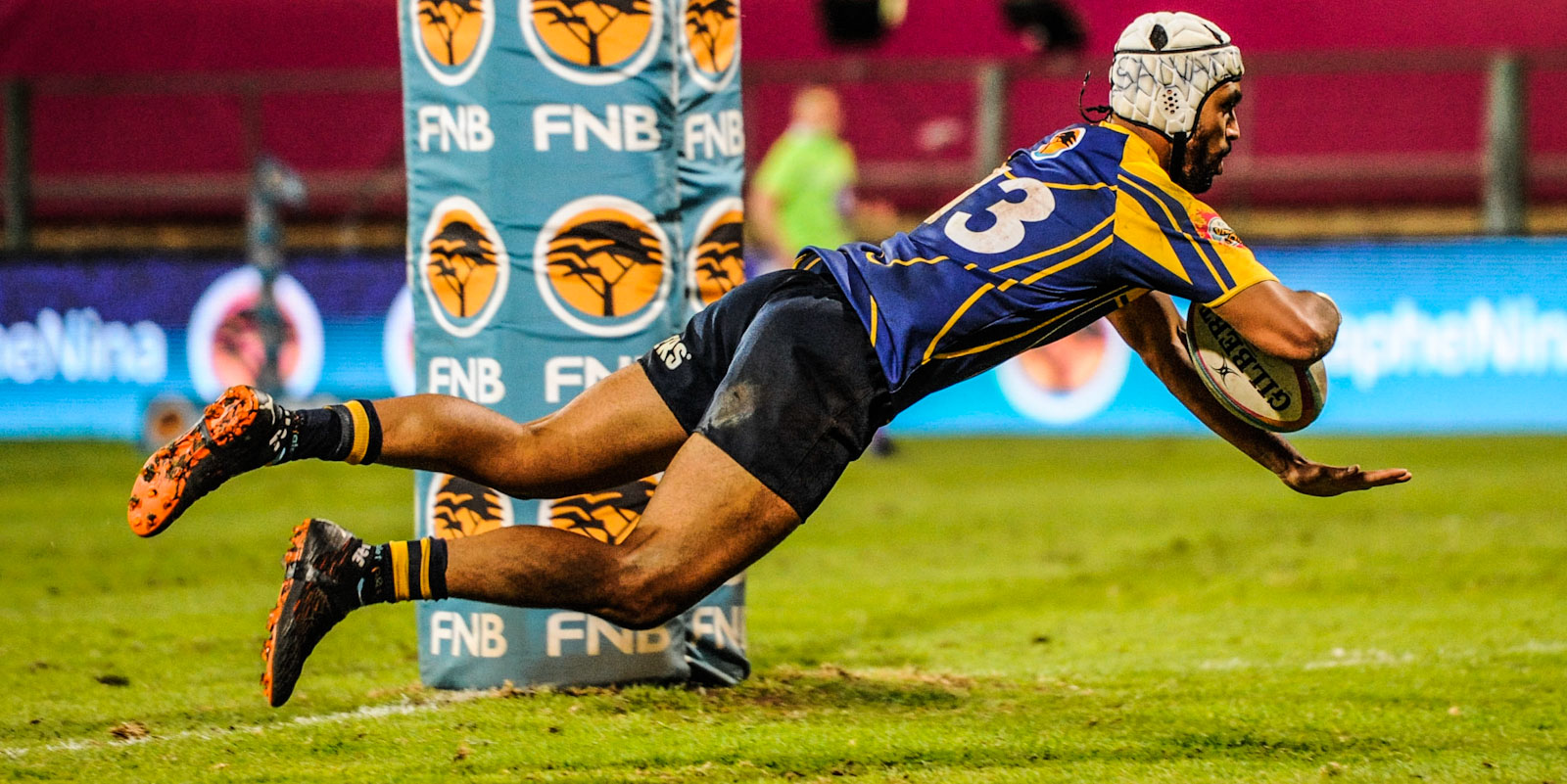 FNB UWC 60 (14), FNB CUT Ixias 19 (19)
UWC scored eight converted tries in a ruthless second half showing against CUT at Tuks Stadium.
Udubs' full house of points ensures a dramatic end to fill the fourth spot in the semi-final race, especially considering they will be aiming to do the same against Wits come Sunday. They are now just two log points behind CUT, who have a game in hand.
Scorers:
FNB UWC – Tries: Jason Alexander (2), Tinotenda Mavesere, Aydon Topley (1x7, 1x5), Branden de Kock (1x7), Bronlee Mouries, Conwill Conradie. Conversions: De Kock (6), Topley (2).
FNB Ixias – Tries: Janus Venter, Ricoman Titus, Cohen Jasper. Conversions: Charles Williams (2).
FNB NWU Eagles 36 (10), FNB Ikey Tigers  42 (22)
The Tigers resisted a second-half surge by the Eagles to lock up a vital victory at Tuks Stadium, with James Tedder (UCT flyhalf) scoring 27 points.
The five-point haul took the Tigers back to the top of the log after Tuks had briefly occupied the position earlier in the day, while the Eagles scored two bonus points to finish round eight in fifth position, one point behind CUT and one ahead of UWC.
NWU celebrated the life of 2018 captain Tiaan Bezuidenhout, who passed away in a tragic car accident earlier this month, by retiring the No 8 jersey for this match. Ruben Dreyer wore the No 24 jumper instead as a nod towards the life and times of a very special player to the NWU family.
Scorers:
FNB NWU Eagles – Tries: Jandré Burger (2), Komape Moloto, Sampie Swiegers, André Fouché, Sylvestor Hassien. Conversions: Nivan Petersen, Marco Donges (2).
FNB Ikey Tigers – Tries: James Tedder (1x7), Rethabile Louw, Connor Evans, Byron Bowes. Conversions: Tedder (4). Penalty goals: Tedder (4).