Anticipation, determination, pride and honour will be amongst those emotions when the team play in an international match for the first time since December 2019, and while the squad's re-introduction to the Rugby Sevens fraternity will be one of new beginnings, for 22-year-old flyhalf Anacadia Minnaar, it will be one of second chances as well.
The Middelburg Stormers player will be bursting with pride to play for her country again and can draw on the emotions she felt in 2019, when – in her first season of senior rugby as EP Queens flyhalf – she played in two Test matches for South Africa against Scotland.
On the verge of launching a career similar to that of the legendary Zenay Jordaan (who also hails from Middelburg, Eastern Cape), Minnaar ran into a proverbial brick wall early in 2020, when the COVID-19 pandemic struck hard and wiped domestic sport off the calendar for the remainder of the season.
For Minnaar, who saw rugby as a potential career, the fall-out was almost catastrophic, and difficult choices had to be made.
"At that stage I was still training by myself, but it was a struggle," Minnaar admitted this week.
"The whole exercise seemed futile. I trained, but there were no matches in sight. Some days I went to the field and just sat there, struggling to get myself going.
"I did not really see a future for me in rugby while I had to sit idle and wait for good news with regards to playing again. As much as I loved rugby, I realised I had to make a choice.
"I decided to find a job and assist my family, who were struggling to make ends meet. My mother Geraldine was adamant though, she told me 'the Lord wants you to play' and encouraged me to keep training and stay fit," she reflected.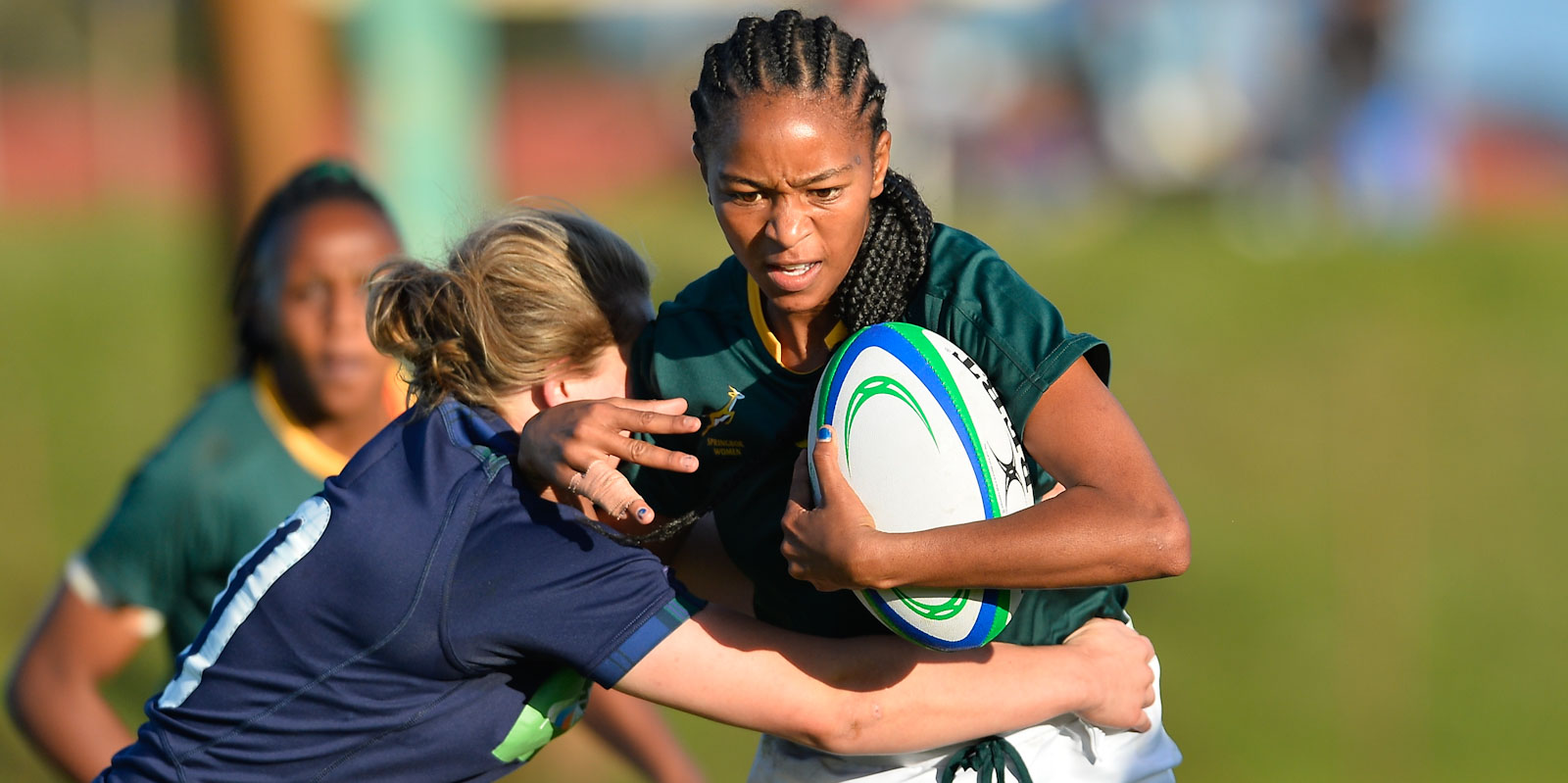 When women's rugby returned to the schedule last year, it was a grateful and more mature Minnaar who ran the cutter for the EP Queens in the Women's Premier Division. It also provided an opportunity to play with Jordaan, one of the greats of the SA time.
"I played in eight matches, some at flyhalf and when Zenay was available, at centre," she said.
"That was a great experience to play alongside someone you admire and has achieved so much. She was such an inspiration to so many young girls in our area. We were told rugby should not be played by girls, but Zenay proved otherwise. Now I want to follow in her footsteps and also inspire others.
"I was already told by young girls back home that they want to follow in my footsteps, so my success will become their as well."
After being invited to the first Springbok Women's Sevens camp of 2022, an opportunity arose to go and play for the Rhino Sevens Academy in the USA, but a declined visa application closed that opportunity down.
Springbok Women's Sevens coach, Paul Delport, who initiated the opportunity, was quick to call Minnaar back into his group and when she excelled in the squad's first hit-out for the season at the Hermanus Sevens, the coach was smiling, and her name was pencilled in for the trip to Tunisia.
"I was gutted when the visa was turned down as this was such a great opportunity to expand my experiences and grow as a player in an environment where I was going to be tested and pushed out of my comfort zone. When I was told that I cannot travel, I was despondent," she said, quickly adding that luckily the bad news didn't last.
"This is my second chance – the pandemic stopped my first opportunity to establish myself as an international player, but now I get another opportunity and I need to make it count," said Minnaar. "I love playing sevens and this debut for this team will be equally special as in 2019. I know my parents, grandmother and uncles will be very proud too."
So would Jordaan, who was instrumental in the SA side returning from Monastir with the gold medal in 2019 and knowledge that they were the best team on the continent.
For Nadine Roos, who played with Jordaan back then and now with Minnaar, the return to action could not come soon enough.
"The wait is over and that is great," Roos said.
"When we got together in January, we targeted this tournament as a huge one in our season. If we win, we are playing in the Commonwealth Games in July and more invitations to other tournaments will follow. This is a new beginning, weird as it may sound, and one that we must make count this weekend in Tunisia."
The Springbok Women's Sevens will play Senegal at 13h28 and Zimbabwe at 14h56 (SA time) on Friday. The tournament will be streamed live on Rugby Africa's Facebook and You Tube pages and Tunisia Rugby's Facebook Page.
Pools:
Pool A: South Africa, Zimbabwe, Senegal
Pool B: Kenya, Uganda, Zambia
Pool C: Tunisia, Madagascar, Ghana