The upshot is that Maties – who finished the regular season at third in the standings – will host UP-Tuks in the decider at the Danie Craven Stadium on Monday, 25 April, with kick-off scheduled for 19h00.
In the first semi-final in Cape Town, hooker Sean Swart scored a hat-trick as Maties hammered the UCT Ikeys 58-19. Sean Swart equalled CUT hooker Janus Venter's record for the most tries in a FNB Varsity Cup season (12) and was named the FNB Player That Rocks.
That award could have gone to the entire FNB Maties pack that dominated at scrum time or to flyhalf Nevaldo Fleurs, who was successful with eight of 10 goal kicks in windy conditions. The Ikey Tigers came into this semi-final as favourites, having beaten their arch-rivals 44-27 in the round seven clash at the Green Mile.
But their discipline let them down (they conceded 18 penalties and lost two players to yellow cards), they lost the forward battle and they had just 38% of the possession.
The Maroon Machine will contest their 10th FNB Varsity Cup final next Monday and be chasing a record-extending sixth title.
Scorers:
FNB UCT Ikeys 19 (7) – Tries: Luthando Woji, Sipho Dyonase, Thomas Meyer. Conversions: Duran Koevort (2).
FNB Maties 58 (31) – Try: Gift Dlamini (1x7), Sean Swart (3), Sibabalwe Xamlashe (1x7), Thomas Bursey, Anton du Toit. Conversions: Nevaldo Fleurs (5). Penalties: Fleurs (3).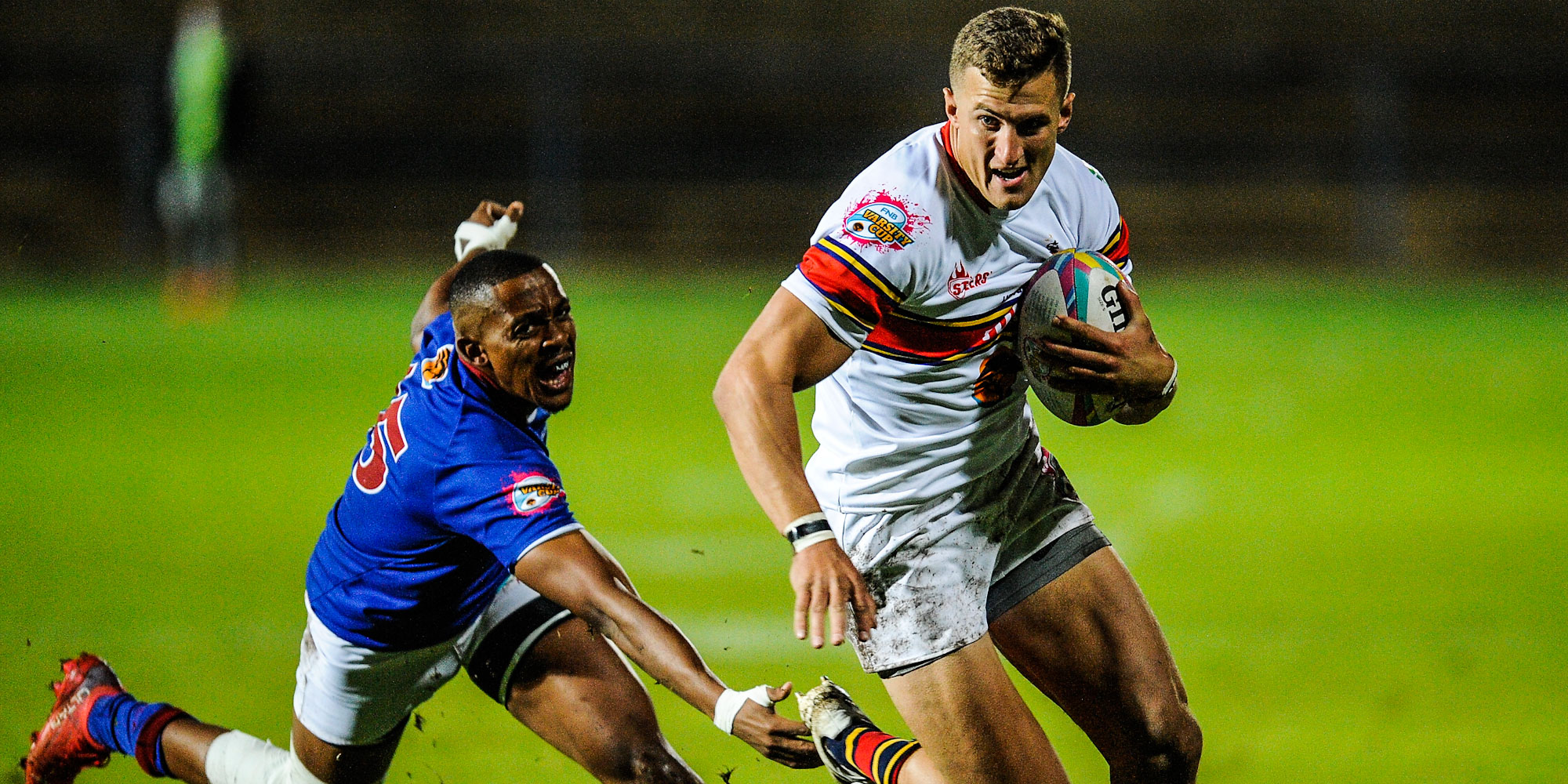 Determined defence prevailed against all-out attack when UP-Tuks beat UFS Shimlas 29-21 in Bloemfontein.
Fullback Stefan Coetzee kicked a penalty and then scored a try to give the visitors an 8-0 lead after seven minutes, but the hosts hit back to score three tries before the break, and if it wasn't for a late flurry by the men from Pretoria, the Free Staters' half-time lead would have been bigger than two points (21-19).
Tuks captain Lincoln Daniels ran through the Shimlas defence after half-time to reclaim the lead for his side.
The visitors received another boost when Shimlas hooker Carl Wijburg was shown a yellow card for cynical play and while the ambitious hosts persisted with their ball-in-hand tactics, the UP-Tuks defence was more than equal to the task, as they managed to keep the much-vaunted UFS attack scoreless in the second stanza.
When the visitors won a penalty in their own half in the 58th minute, Coetzee stepped up to slot the long-range goal. For the second time in the game, UP-Tuks enjoyed an eight-point lead over their more fancied opponents.
Excellent game management in the closing stages ensured that UP-Tuks retained that lead, won the game, and marched on to yet another FNB Varsity Cup final.
Scorers: 
FNB UFS Shimlas 21 (21) – Tries: Janco van Heyningen (1x7), Thabang Mahlasi, Ruwald van der Merwe. Conversions: Litha Nkula (2).
FNB UP-Tuks 29 (19) – Tries: Stefan Coetzee, Bernard van der Linde, Lincoln Daniels. Conversion: Coetzee. Penalties: Coetzee (4).