For Powell, who walked away from the last four HSBC World Rugby Sevens Series tournaments as the winning coach, the work done in Stellenbosch in the last two weeks before their departure to Europe laid a good foundation for their challenge in Spain.
"We always do the hard yards at home and then just tweak whatever is needed after arriving at tournaments," said Powell.
"Nothing has changed in that regard, and we have used our time here in Malaga to make sure the legs are stretched, and everyone is on the same page."
Powell said the easy transition from South Africa eased them into two solid days of preparation and they are as ready as they can be, but there will always be some nerves, despite the feeling of comfort.
"Our aim remains the same – to be as successful in this tournament as possible. We always reset to zero, but I will start with almost the same team as the one in Dubai," he said.
"Having said that, the big difference between the Dubai team and this one is the fact that both Justin Geduld and Dewald Human are here as flyhalves and did not play in Dubai, where Selvyn Davids did an admirable job as stand-in flyhalf. Justin will play some matches at centre, including the opening match against Scotland.
"I am please both are back in the squad, but also keen to see the three other players who were not in Dubai. Sako Makata, Mfundo Ndhlovu and Darren Adonis are all really good players, so I am happy to have them fit and keen to see them perform."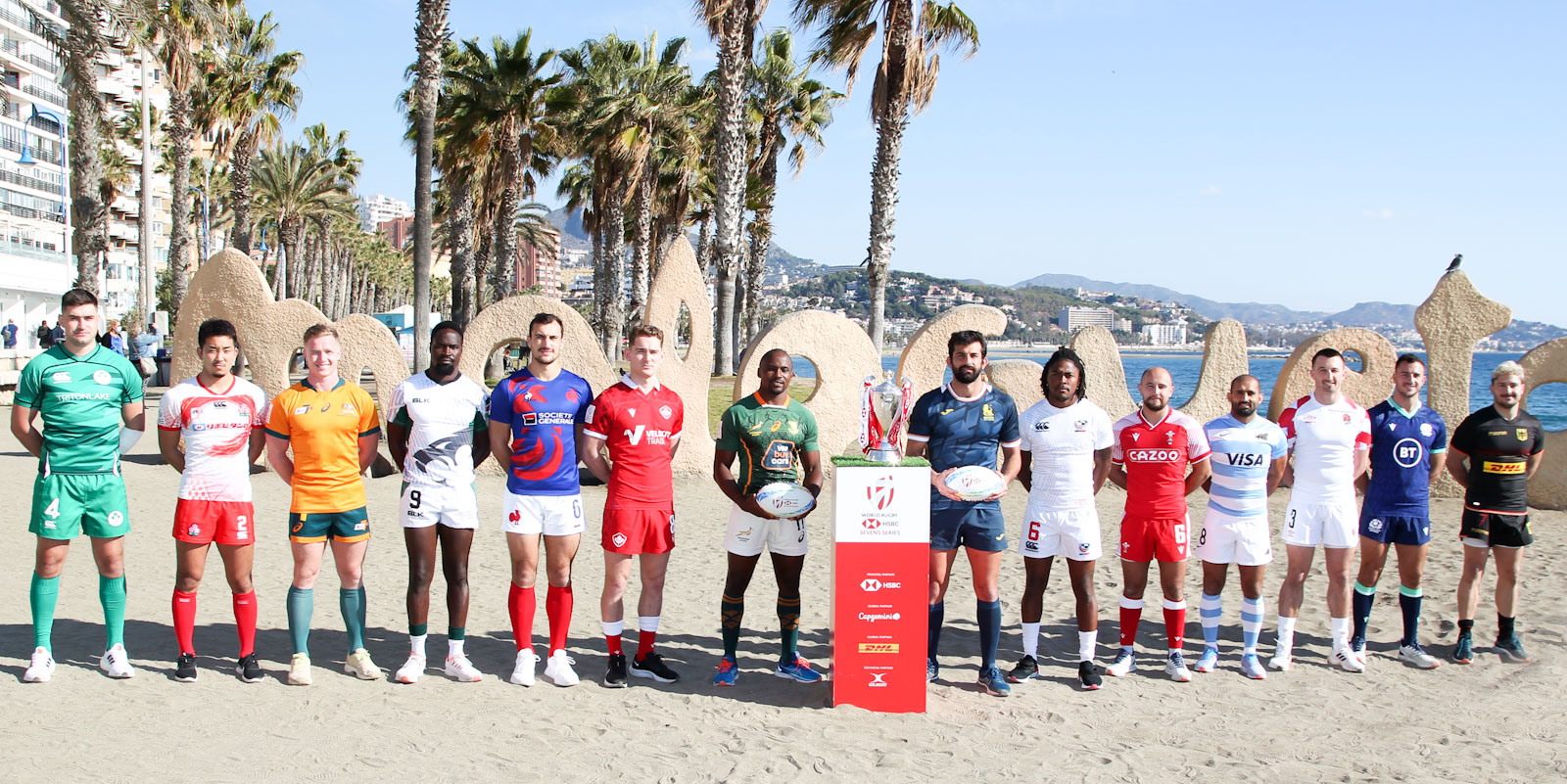 For Soyizwapi, the short turnaround from Dubai and the easy travel to Spain helped them in their preparations: "It was a good turnaround for us from Dubai. We had the festive season in between, but everyone knew they needed to stay in shape over Christmas and New Year and we slotted back in training with no issues. That made the preparation for the two Spain events easier."
The Blitzbok skipper insisted they will start from scratch on Friday: "We always do, with every tournament, despite what happened in Dubai. We are starting all over again, with the focus on our first match tomorrow."
The Springbok Sevens squad keep a special internal honours board for those who achieved the milestone of having played in 35 World Series tournaments and this weekend, Soyizwapi will join Cecil Afrika, Kyle Brown, Chris Dry, Branco du Preez, Geduld, Frankie Horne, Fabian Juries, Werner Kok, Marius Schoeman, Seabelo Senatla, Philip Snyman and Mzwandile Stick as the 13th player out of 183 to achieve this landmark.
The Blitzbok speedster will also receive a special embroidered match jersey, like the 12 before him, and he was very humble about the achievement.
"It is great to achieve this, but even more so because I can share this moment not only with the squad that is here, but with the whole system, the players and management back home, including the Academy and their coaches and staff," said Soyizwapi.
"They work just as hard as those here to prepare us for each tournament. If you look at the other players who have reached this milestone, I do feel very honoured – they have really made their name in the game, so to be associated with them is pretty special."
It will also be the 10th time that Soyizwapi will lead the team in a tournament and as such will be the first on the field with the logo of the new team sponsor, WeBuyCars.
"It is wonderful to have a sponsor again, especially in these difficult times and it is something we really appreciate," he said. "They have come on board and are willing to partner with us. Incidentally, it is a great brand and one we like, so we are very happy with them being our sponsor."
Springbok Sevens pool schedule in Malaga(SA times):
Friday 21 January
14h12: Scotland
 Saturday 22 January
14h14: England
Springbok Sevens squad:
Sako Makata – 11 tournaments, 46 matches, 35 points (7 tries)
Ryan Oosthuizen – 25 tournaments, 123 matches, 125 points (25 tries)
Impi Visser – 15 tournaments, 76 matches, 80 points (16 tries)
Zain Davids – 26 tournaments, 132 matches, 115 points (23 tries)
Christie Grobbelaar – five tournaments, 24 matches, 40 points (8 tries)
JC Pretorius – 14 tournaments, 77 matches, 170 points (34 tries)
Branco du Preez – 77 tournaments, 392 matches, 1378 points (98 tries, 441 conversions, 1 penalty goal, 1 drop goal)
Selvyn Davids – 23 tournaments, 120 matches, 468 points (53 tries, 100 conversions, 1 penalty goal)
Justin Geduld – 50 tournaments, 260 matches, 1034 points (111 tries, 238 conversions, 1 penalty goal)
Dewald Human – 11 tournaments, 51 matches, 167 points (13 tries, 51 conversions)
Siviwe Soyizwapi (captain) – 34 tournaments, 181 matches, 580 points (116 tries)
Mfundo Ndhlovu – five tournaments, 23 matches, 25 points (5 tries)
Darren Adonis – two tournaments, 12 matches, 32 points (6 tries, 1 conversion)
Selected Stats:
Branco du Preez and Chris Dry (21) share the record for most career tournament victories on the HSBC World Rugby Sevens Series, so Du Preez will top the list on his own if the Blitzboks are successful this weekend.
Du Preez could also extend his national record for tournaments caps (77) and conversions kicked in the World Series (441) in Estadio Ciudad de Malaga.
A total of 35 Blitzboks have earned Springbok Test caps, with Rosko Specman the last to do so (against Georgia in 2021).
World Series standings after two tournaments:
South Africa 44
Argentina 34
Australia 32
USA 30