The Ikey Tigers outplayed the Eagles 54-36 after Tuks beat Maties 44-35. The two finalists will meet at the same Pretoria venue on Monday (19h00, SuperSport Rugby channel 211).
It will be a repeat of the 2011 final and while UCT will be looking to lift the FNB Varsity Cup for the third time, Tuks are chasing their fourth title.
It will be the teams' first meeting this season after their sixth round clash was cancelled earlier.
FNB Maties 35 (3) FNB UP-Tuks 44 (18)
Tuks had a score to settle with their old foe, especially after losing out to them in the league stage.
Stefan Coetzee (wing) opened their account in the fifth minute and while Zander du Plessis missed two early shots at goal, the Tuks fullback then landed two penalty goals and converted flyhalf David Coetzer's five-pointer.
Du Plessis broke the record for most points scored in a FNB Varsity Cup season when he surpassed former UCT flyhalf Demetri Catrakilis' haul of 136 points from the 2012 season and will go into Monday's final with his tally on 145.
Maties only had a solitary penalty goal via flyhalf Adriaan van der Bank for their first-half contribution to the scoreboard.
The second half proved to be a feast of points as Maties wing Munier Hartzenberg touched down for a converted try before Tuks struck back with a try to flanker Stephan Smit and Coetzee's second, which was recorded as a point-of-origin try.
The Maroon Machine woke up in the final 20 minutes as wing Siba Xamlashe scored two point-of-origin tries either side of Tuks scrumhalf Clyde Lewis' simple support-running try.
Maties flanker Mitchell Carstens' 77th-minute converted try reduced the deficit to nine points, but it was Tuks who celebrated winning a late breakdown penalty and the match.
Scorers:
FNB Maties – Tries: Munier Hartzenberg, Siba Xamlashe (2x7), Mitchell Carstens. Conversions: Adriaan van der Bank, Nevaldo Fleurs (3). Penalty goal: Van der Bank.
FNB UP-Tuks – Tries: Stefan Coetzee (1x5, 1x7), David Coetzer, Stephan Smit, Clyde Lewis. Conversions: Zander du Plessis (4). Penalty goals: Du Plessis (3).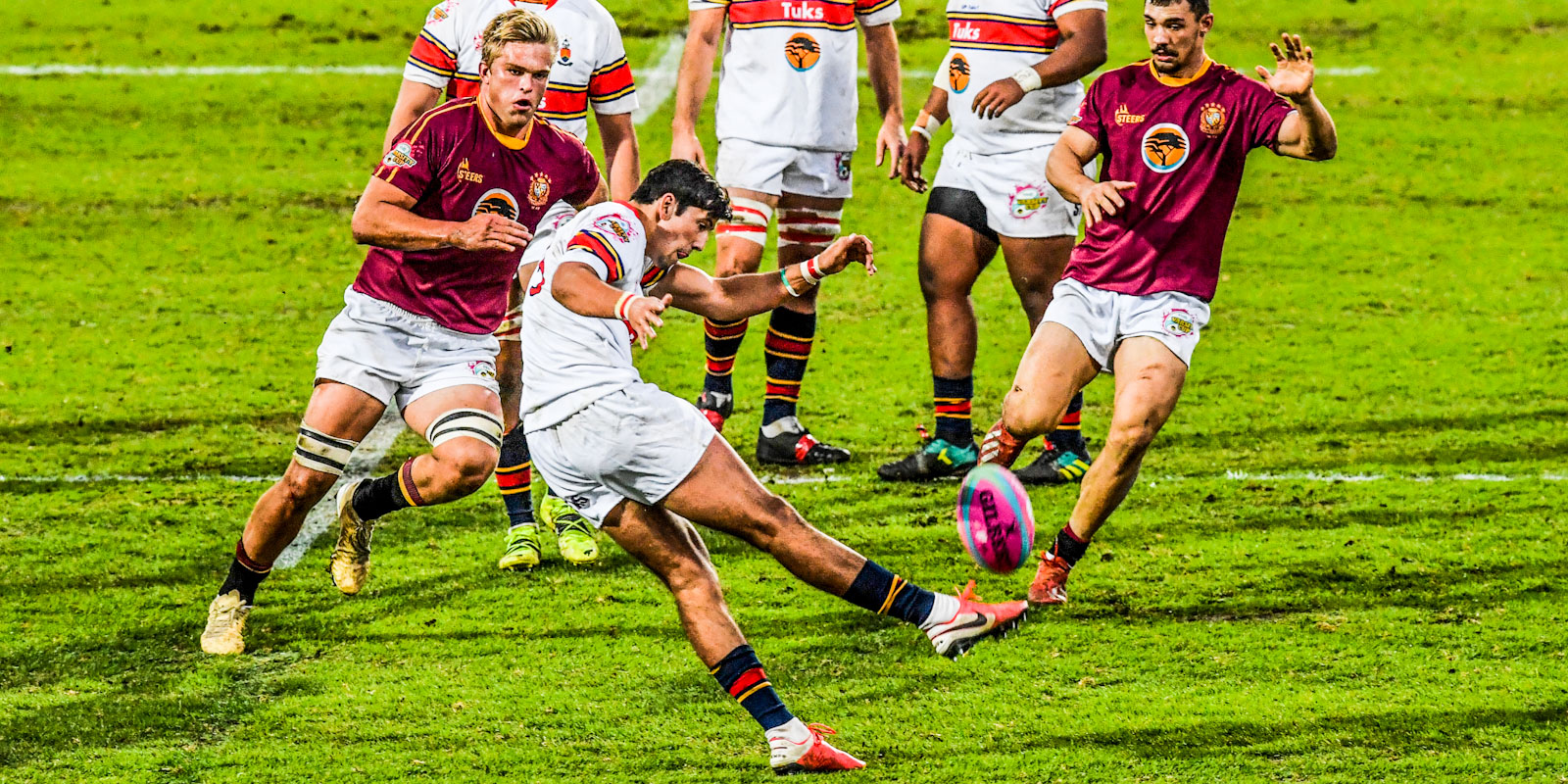 FNB UCT Ikeys 54 (21) FNB NWU Eagles 36 (22)
UCT fought back from 15-0 down to beat NWU and book their place in the final.
The Eagles came into this semi-final as underdogs having needed a final round win to finish fourth on the log, but made a superb start against the table-topping Ikeys, who had their top points' scorer James Tedder ruled out just before kick-off.
However, UCT soon rediscovered their form to take a 21-15 lead, and while the Eagles scored a try in first-half stoppage time to go back in front, they faded in the second half as a tough recent schedule took its toll.
NWU winger Keano Windvogel chased down a kick to score a point-of-origin try in the second minute of the match, with flyhalf Nivan Petersen kicking the conversion and adding two penalty goals.
UCT hit back with tries to lock Gary Porter, centre Le Roux Malan and No 8 Christian Stehlik, before NWU hooker Gustav du Rand mauled his way over for his ninth try of the tournament. Petersen's conversion gave the Eagles a 22-21 advantage at the break.
The Capetonians regained the lead when replacement hooker Josh van Vuuren scored off a driving maul early in the second half.
David Hayes' up-and-under then resulted in the flyhalf scoring a point-of-origin try and when wing Rihaz Fredericks dived over in the right corner, the Ikey Tigers led 40-22 after 59 minutes.
Replacement Eagles prop Arno Gustafson forced his way over the whitewash, before Ikeys replacement scrumhalf Kyle Bowman scored at the other end.
Van Vuuren's second maul try took UCT past the 50-point mark, with replacement scrumhalf Caleb Louw then scoring a late consolation try for NWU.
Scorers:
FNB UCT – Tries: Gary Porter, Le Roux Malan, Christian Stehlik, Josh van Vuuren (2), Rihaz Fredericks, David Hayes (1x7), Kyle Bowman. Conversions: David Hayes (4), Kyle Bowman (2).
FNB NWU – Tries: Keano Windvogel (1x7), Gustav du Rand, Arno Gustafson, Caleb Louw. Conversions: Nivan Petersen (2), Marco Donges, Riaan Genis. Penalty goals: Petersen (2).