Charlie fostered ambitions of playing for the Springbok Women, but she did not see herself being part of the potential RWC squad.
"I was 19 or 20 at the time and just starting out with my rugby career. The Springbok Women also had established players in my position, so I did not really see myself being part of that group," the 22-year-old prop from Nelson Mandela Bay admitted.
Charlie was already on the national radar though. In 2019, when Stanley Raubenheimer named his squad for the Rugby World Cup qualifiers in Johannesburg, Charlie was with the Junior Springbok Women as they prepared for a tour to play against their Zimbabwean counterparts north of the South African border.
At that time, Yonela Ngxingolo and Asithandile Ntoyanto were the starting props, with Ntoyanto having already experienced Rugby World Cup action in 2014, while Ngxingolo would continue to play 17 consecutive Test matches.
Fast forward to 2021 and Raubenheimer's first national squad named post the COVID pandemic, Charlie – now a starting prop for the EP Queens and excelling in a double round of the SA Rugby Women's Premier Division – found herself in the squad to face Kenya in two Tests in Stellenbosch. She was named on the bench in the first Test and then started at tighthead in the second for her international debut.
Another call-up followed for the November tour to Europe, and although she was not used in the two Tests against France or Wales, Charlie got a run against the England Under-20s and Barbarians in the final two matches of the tour.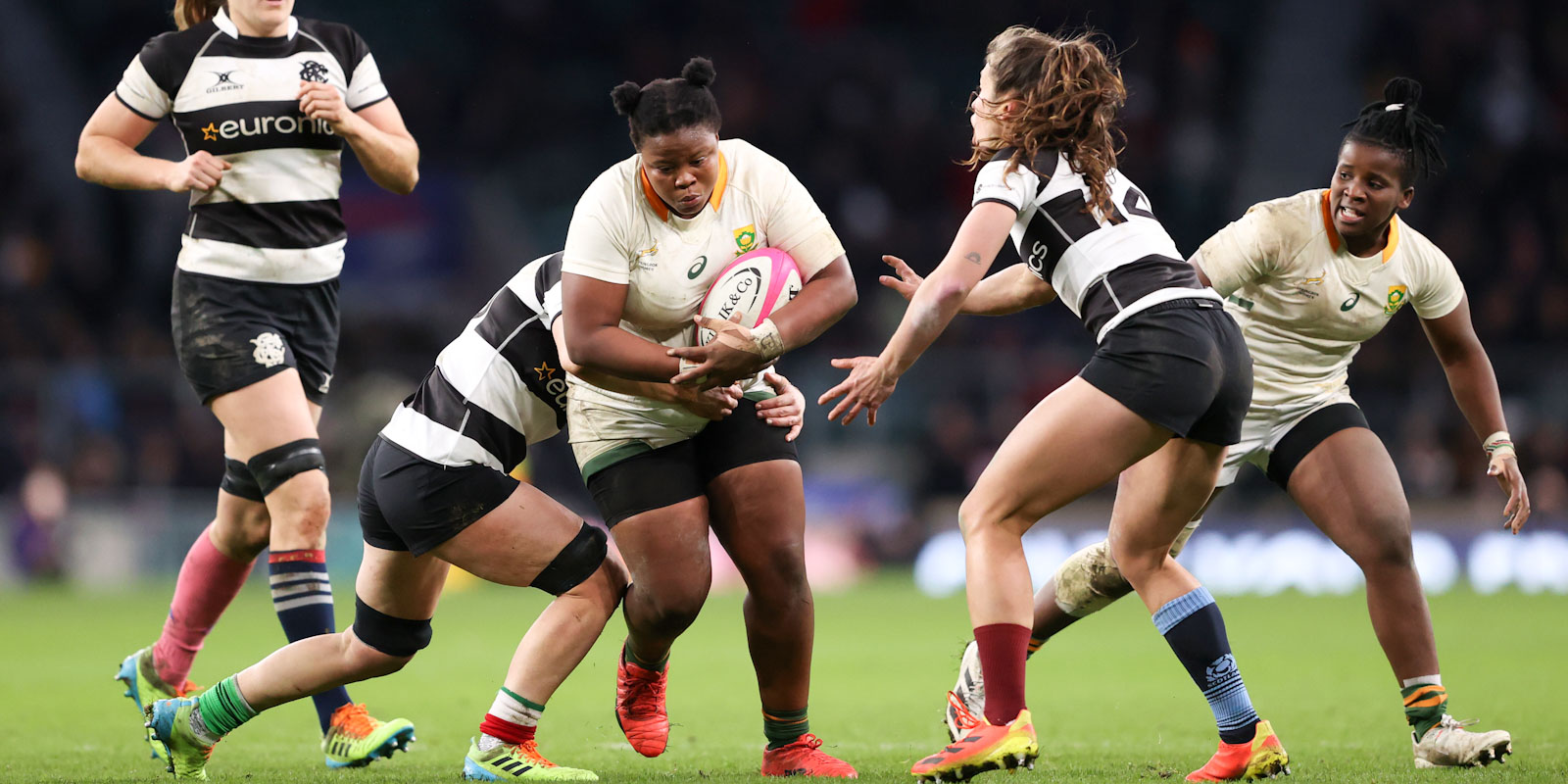 It seemed the time was right for her to start with Google searches about New Zealand…
Not quite though. When Raubenheimer named his first squad for 2022, Charlie was not included. And when he named a squad for a second camp, the EP Queens player was again omitted as the coaches were not happy with the feedback of her conditioning data.
"That was a tough time for me," Charlie recalled.
"But thanks to the support of my family, I worked harder and harder and I was delighted to be called back into the squad for the African Cup.
"I did not play though, but I did get a call-up against Japan, which gave me hope again to make it to New Zealand. When the squad was finally announced and I was in, there was real excitement, but even then, I did not think I was going to start against France."
Come the biggest day of the year for the women's game and opening the Rugby World Cup at Eden Park in Auckland, Charlie was wearing the No 1 shirt. And she did not disappoint with a solid performance, forcing a number of scrum penalties.
"I can really look back at this day for a long time. Here I was, being part of the opening match of the World Cup and when the action began, I felt at home," she said.
"The knowledge that I can compete at this level was just such a boost and for me the biggest achievement of my life. Look, no prop scrums alone, so it is not about me, but it was great to force my opponent to concede penalties and for our forwards to enjoy dominance over a highly-rated French pack.
"I did my part around the field, even had a run and really enjoyed myself out there. I played almost 70 minutes in total and enjoyed every one of them."
Come Sunday, a new challenge awaits with another step into the unknown, as the Springbok Women have never faced the Fijiana. For Charlie, the colour of the jersey or the origin of the opponent does not matter. Her goals remain the same.
"I want to dominate my opponent; I want to secure penalties for my team," she said.
"And I want to assist in mauls, make tackles, and carry the ball. The nice thing about all of that is that I can do so with my team and when we play together, we get things done."
The squad to face Fiji will be announced Thursday evening (SA time).