Eleven months ago, France beat the Bok Women by 46-3 in Vannes, but on Saturday they came up against a different team in green and gold, and although the scoreline tells another story, the French didn't have it all their own way at Eden Park.
The Springbok Women's physicality on defence and brilliant set piece had their more fancied opponents on the backfoot for big chunks of the game, while South Africa also managed to disrupt France's momentum on attack with great play on the ground.
In the end, a slow start due to unnecessary errors, an inferior kicking game – SA spent more than 60% of the match camped in their own half – and some mistakes towards the end of the match cost the Springbok Women, but they certainly laid down a marker in New Zealand.
France raced to a 19-0 lead inside the first quarter, mainly because of that notorious slow start by the South Africans due to mistakes and some early-match jitters, while the French just seemed a bit more settled.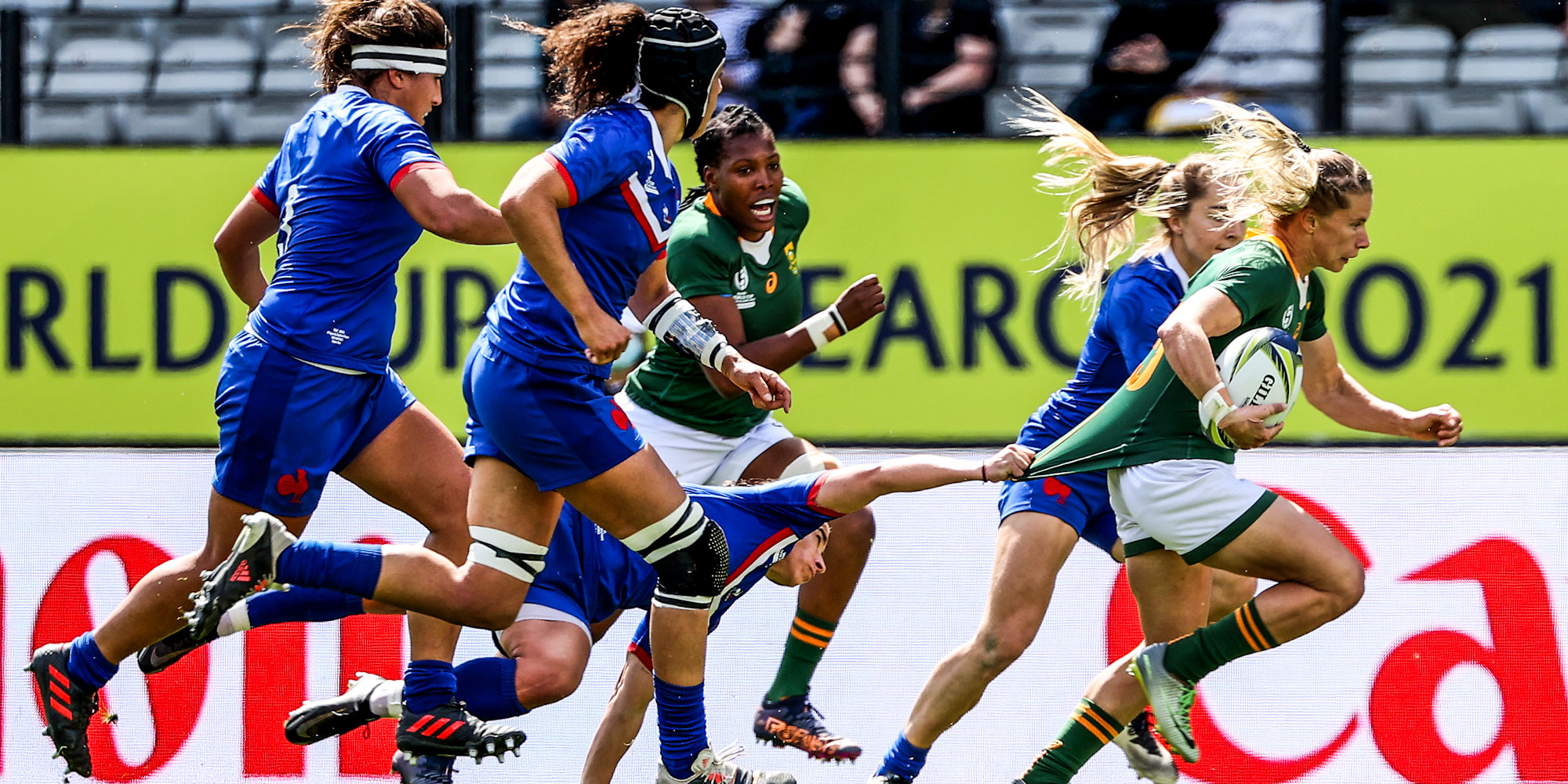 Laure Sansus (scrumhalf) scored from a sniping run off a rolling maul after the Springbok Women fluffed the kick-off, which put France on the attack from the start.
More errors robbed the Boks of an opportunity to build some momentum – failing to get the ball out from a superb rolling maul and gifting a scrum to France, and not kicking out a penalty, are costly at this level.
Gabrielle Vernier (centre) then got onto the score sheet with a try from a very clever chip over the top by Caroline Drouin (flyhalf) in the 11th minute, and six minutes later, Emilie Boulard (wing) intercepted a pass from Tayla Kinsey to put France 19-0 up.
Despite a 29th minute yellow card to Sizo Solontsi (flanker) for a head-on-head tackle, the South Africans grew in stature in the second quarter, with their superb set piece setting the tone. Aseza Hele (No 8) and Nadine Roos (fullback) also got some opportunities with ball in hand, but the French defended well and afforded SA very little space on attack.
The Bok Women also had their opponents under pressure on defence, but due to their kicking struggles – which partly led to Zenay Jordaan replacing Libbie Janse van Rensburg at flyhalf late in the half – they spent almost two thirds of the first stanza camped in their own half.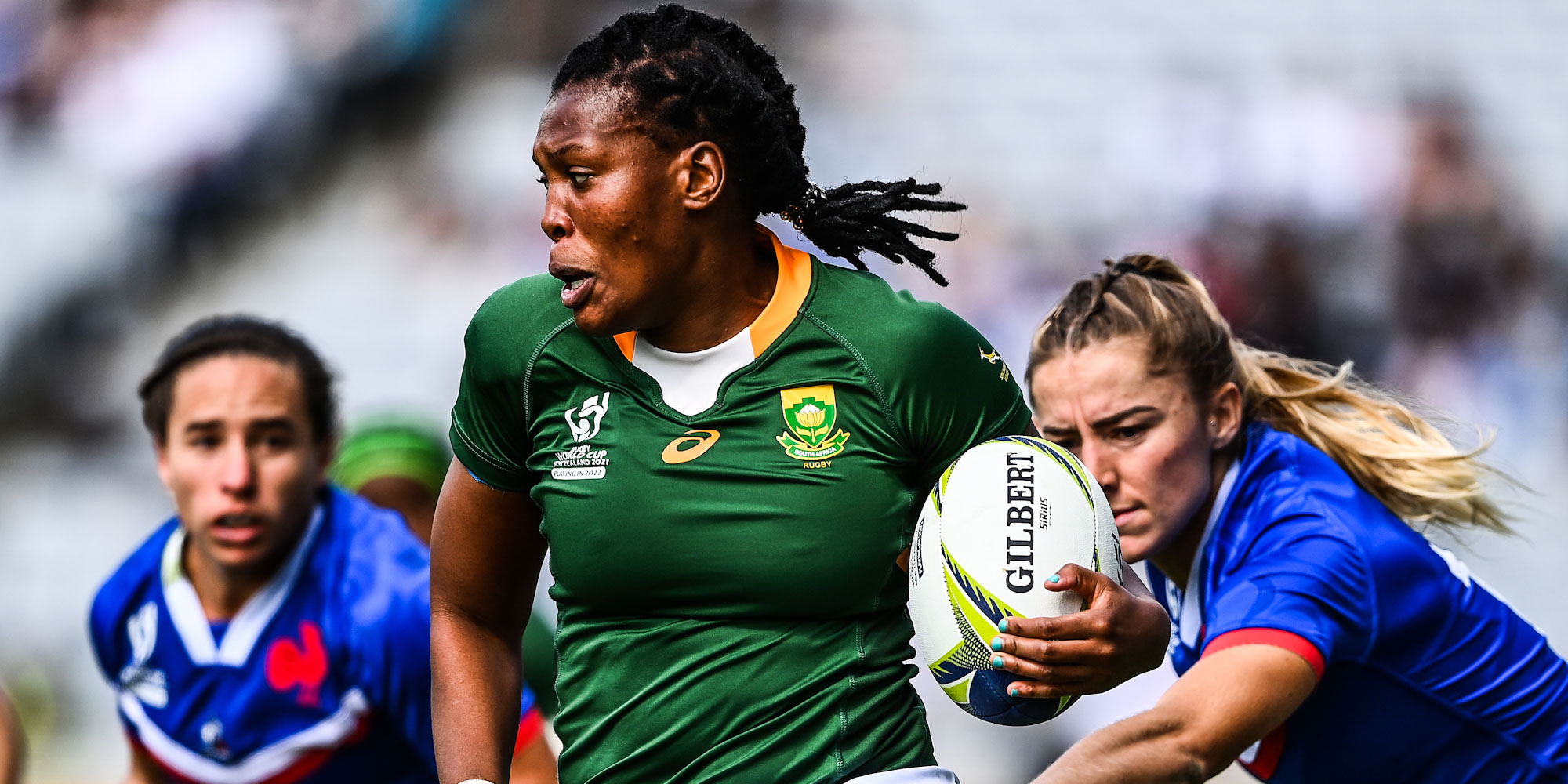 The Springbok Women started the second half much better, getting some reward on the attack which led to field position, and Sinazo Mcatshulwa (flanker) almost went over in the 42nd minute.
The South Africans stayed camped in the French half and eight minutes later, after a couple of dominant scrums, superb lineout drives and good attacking continuity where they kept the ball through numerous phases, Nomawethu Mabenge (wing) didn't need a second invitation as she went over in the corner for a brilliant try.
France struggled to get their hands on the ball – Lusanda Dumke (flanker) proving a menace on the ground after she came on as a second-half replacement – but their superior experience ensured they got back into the SA half, although they were made to work very hard for this field position.
Two quick tries in the final quarter – from a tap penalty by Sansus in the 68th minute before Drouin went over four minutes later after some missed tackles – handed the impetus back to France, and they finished strong with a sixth try on the stroke of full-time when Joanna Grisez (wing) went over from a clever cross-kick.
Scorers:
Springbok Women 5 (0) – Try: Nomawethu Mabenge.
France 40 (19) – Tries: Laure Sansus (2), Gabrielle Vernier, Emilie Boulard, Caroline Drouin, Joanna Grisez. Conversions: Drouin (2), Lina Queyroi (3).