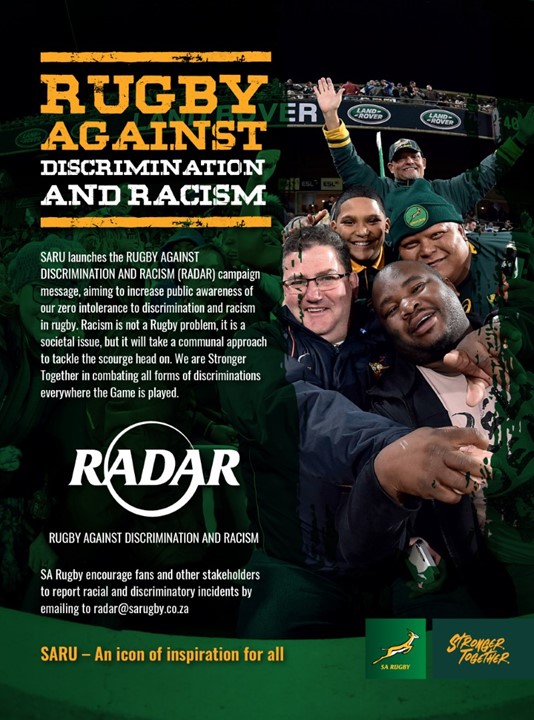 In addition, the Disciplinary Procedures of dealing with transgressions through disciplinary hearings, enforcement of sanctions and appealing procedures are also introduced.
Objectives
The SA Rugby Fan Code, is aimed at achieving the following objectives:
To establish standards of behaviour/conduct expected of stakeholders and participants;
To provide all stakeholders and participants with the best possible sport experiences regardless of race, age, gender, creed and ability;
To provide a supportive environment for enjoyable sporting and activity participation
To provide the safest and friendliest possible environment for all Stakeholders including participants;
Fan Rules
Fans will: -
(a) Display good sportsmanship by always being respectful to players, coaches and officials;
(b) Act appropriately by not taunting or disturbing other fans' efforts to enjoy the game;
(c) Cheer in a positive manner and encourage fair play;
(d) Avoid profanity and objectionable cheers, gestures and comments that are racially offensive;
(e) Support efforts to provide and promote a safe and pleasant environment;
(f) Empathise with referees and coaches by trusting their judgement and integrity;
(g) Recognise good effort, teamwork and sportsmanship; and
(h) Not interfere with the game, referee, and match officials on or off the playing field nor act in a hurtful manner towards players or officials.
Severe penalties on individual incidents of misconduct might help to deter more people from racially motivated acts and discrimination. The sanctions applied in the other examples given can serve as a warning to other fans. These might include inter alia:
Warning and Fine
Reprimand and apology
Ban and Removal from the stadium
And possible criminal procedures
For more information please contact radar@sarugby.co.za
Disciplinary Procedure
An offence under the Code means: Engaging in any conduct (whether through the use of language, gestures or otherwise) which is likely to offend, insult, humiliate, intimidate, threaten, disparage or vilify any reasonable person in the position of a Player, Support Personnel, Match Officials or any other person (including a spectator) on the basis of their race, religion, culture, colour, descent, national or ethnic origin.
This section deals with the various stages of a complaint and action taken in an incident of racism and or discrimination.
The key stages of the procedure are as follows:
Step 1: Racial incident reported
Step 2: Received at central point at Head Office
Step 3: Fowarded to the Judicial Committee
Step 4: Preliminary investigation by the JC
Step 5: Disciplinary Procedures get instituted
Step 6: Findings, sanctions and Notification

Appeals Procedure
Anyone disciplined under this Policy and its Codes of Conduct may appeal the decision of the Judicial Committee 

1. The grounds for appeal 

a) Decision makers did not have authority or jurisdiction; 
b) Failure to follow SA Rugby and RADAR procedures; 
c) Decision was biased or decision makers were impartial; 
d) Information that was relevant was not considered; 
e) Information that was not relevant was considered; 
f) disciplinary sanction was improper; or 
g) Decision was unreasonable; 
h) New evidence or evidence not having been dealt with during disciplinary having come to the fore. 

2. Responsibilities 

a) The appellant 

- Must in writing lodge an appeal within 14 (Fourteen) days of receiving the Judicial Committee's written decision. 
- All appeals must be sent to the Judicial Appeals Committee on jac@sarugby.co.za

The decision of the Judcial Appeal Committee is final and no further appeal to a higher line authority within SA Rugby is possible.